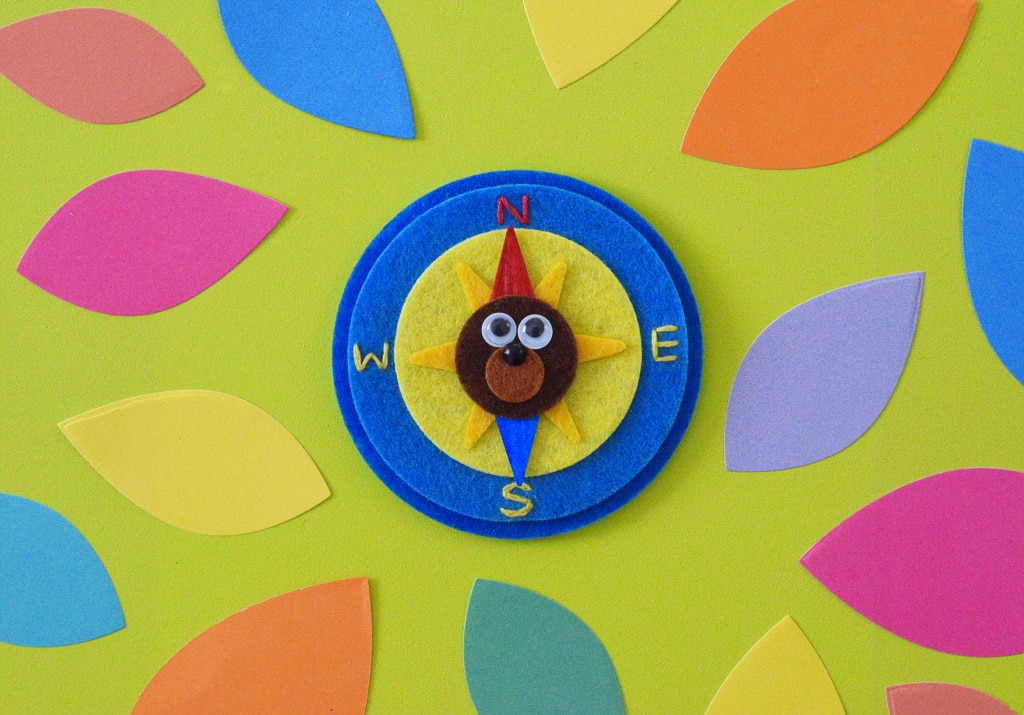 You will need:
Stiff felt in light blue, medium blue, light yellow, dark yellow, light brown and dark brown
Yellow thread, red thread and a needle
Small self adhesive googly eyes
Black mini brad pin
Small piece of card
Red and blue pens
Self adhesive badge back
Fabric glue
Scissors
Note: A grown up is needed to supervise and help!
Instructions:
Step 1: Print out all the templates and cut out the shapes
Step 2: Using fabric glue, stick the dark yellow star shape in the centre of the light yellow circle, then stick the yellow circle to the light blue circle and leave to dry.
Step 3: Glue the small brown circle to the bigger dark brown circle, and add the googly eyes to make a face, leave to dry.
Step 4: Colour in the diamond shape, half in red and half in blue pen.
Step 5: Ask an adult to poke a small hole through the centre of the face, the centre of the compass piece and the centre of your glued together yellow and blue pieces, then thread the brad through to make a nose.
Step 6: Stitch N, E, S and W onto the edges of the light blue circle, then glue to the bigger blue circle and leave to dry.
Step 7: Stick on the badge back and wear your compass badge with pride!