Autumnal Duggee Chocolate Apples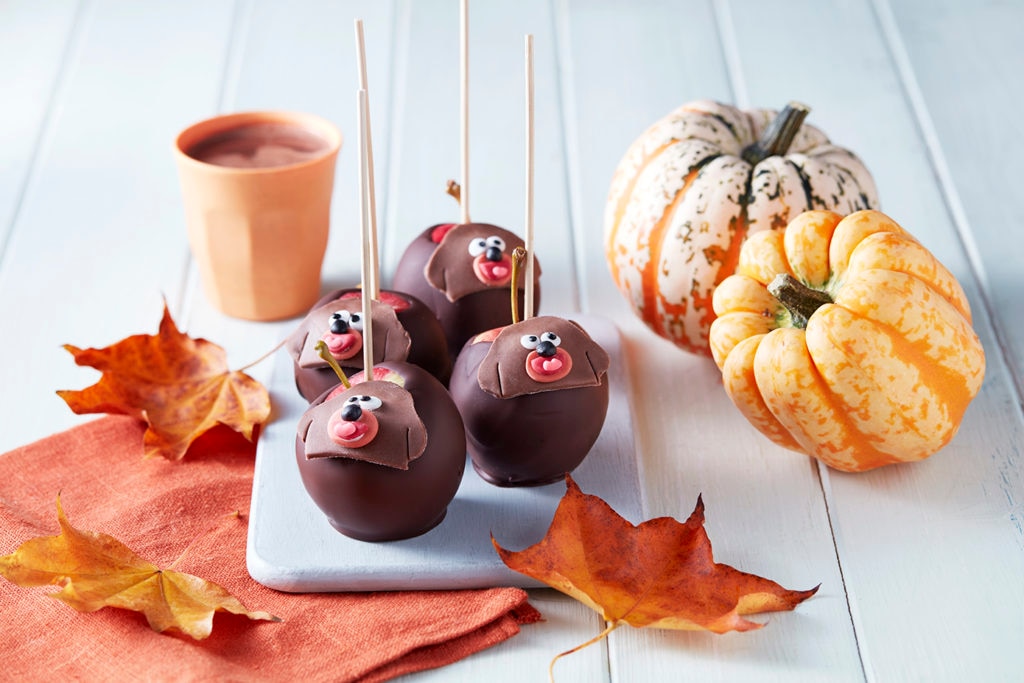 Have a go at making these delicious and chocolatey autumnal apples with Duggee! Perfect for cosy evenings at home with your Squirrels, or out with all your Squirrel's friends at bonfire night and Halloween!
Duggee has everything you need to get started below. A-woof
YOU WILL NEED
250g Plain, milk or white chocolate, chopped into small pieces
6 Small apples, chilled
6 Wooden lolly or kebab sticks
50g Brown fondant
Small amount of black, white, light brown and pink fondant
Small amount of icing sugar
A grown-up to help with preparation and heat.
METHOD
To make Duggee's face, knead the brown fondant and roll out onto a work surface dusted with icing sugar.
Cut out 6 shapes for Duggee's head and ears.
Roll and cut out shapes for Duggee's features in the same way and dampen with water to stick onto the head shapes.
Line a baking tray with baking parchment.
Gently melt the chocolate in a heat proof bowl over a pan of simmering water making sure that the water doesn't touch the bottom of the bowl.
Wash and dry the apples and push a lolly or kebab stick half way into each one with the stalk pointing upwards.
Dip each apple in the melted chocolate, tap off the excess and place on the lined baking tray to set.
Top with the Duggee decoration using some of the left over melted chocolate.
We love to see it! Remember to share your wonderful Duggee bakes with us by tagging @HeyDuggee on socials or sending by direct message. Enjoy!