How to make Spooky Badge cookies
It's only right to have some spooky seasonal cookies this month! Try making these delicious treats with your little Squirrel, just scroll down for the recipe.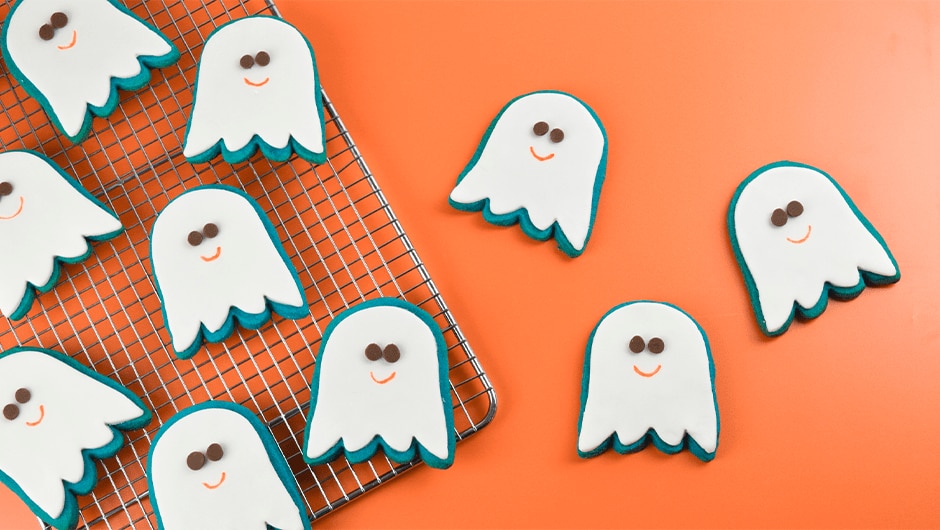 Ingredients
For the cookies:
250g softened butter
125g caster sugar
2 tsp vanilla extract
blue gel food colouring
375g plain flour
To decorate:
400g white fondant icing
Icing sugar for dusting
handful chocolate chips
orange food writer pen
Note: A grown-up is needed to help with preparation and baking
Method
Preheat oven to 160°C (Gas mark 2/325°F). Line 2 baking trays with baking paper.
Place the butter and sugar in a large mixing bowl, then whisk together until pale and fluffy.
Sieve in the flour, then add the vanilla extract and blue food colouring. Whisk again until the mixture comes together in a bright blue dough.
Roll the dough out on a lightly floured surface to around 1cm thick. Using a large ghost shaped cookie cutter, cut ghost shapes from the dough then carefully transfer them to the baking trays.
Bake for around 15 minutes until cooked through.
Once cooked, leave the cookies to cool on the baking trays for a few minutes then transfer to a cooling rack to finish cooling.
When the cookies are completely cool, dust a clean surface with icing sugar, roll the fondant icing out on it into a thin layer and cut out fondant ghost shapes using the same cookie cutter as before.
Pop a white fondant ghost on top of each cookie – due to spreading during baking, your fondant ghost should be slightly smaller than the cookie leaving a nice blue border around it.
Add 2 upside-down chocolate chips to each ghost cookie for eyes and draw on orange mouths using a food writer pen or cocktail stick dipped in food colouring to finish.
Enjoy!