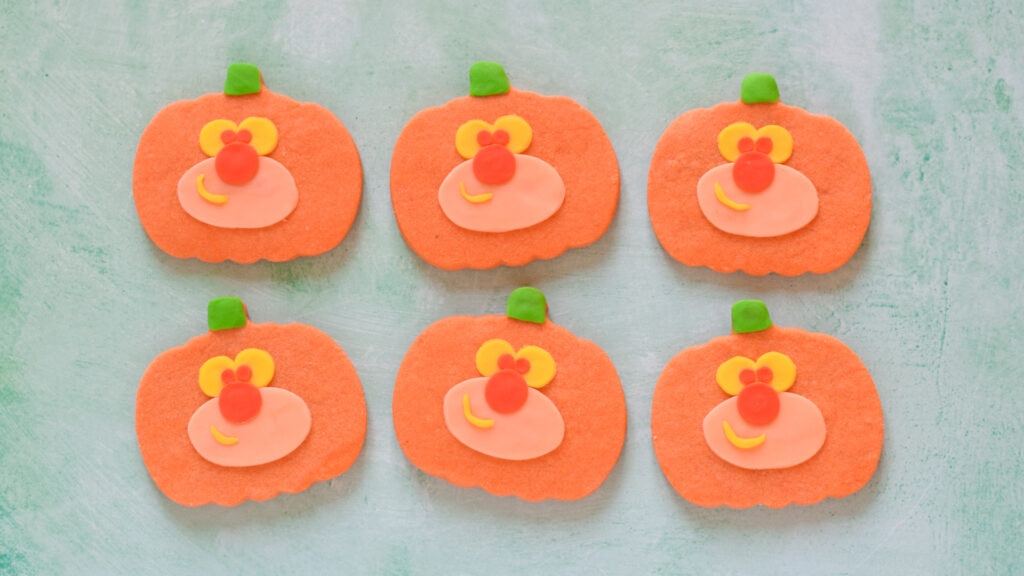 Ingredients (makes 16 cookies)
For the shortbread cookies:
250g butter
125g sugar
375g plain flour
2 tsp vanilla extract
Orange gel food colouring
To decorate:
150g fondant icing
Green, yellow and orange gel food colouring
Icing sugar for dusting
Tube of orange writing icing
Note: Make sure you have a grown up with you to help with baking!
Method:
Preheat oven to 160°C (Gas mark 2/325°F).
Line 2 large baking trays with baking paper.
Place the butter and sugar in a large mixing bowl, then whisk together until pale and fluffy.
Sieve in the flour, then add the vanilla extract and orange food colouring. Whisk again until the mixture comes together in a bright orange dough.
Roll the dough out on a lightly floured surface to around 1cm thick. Using a large pumpkin shaped cookie cutter, cut pumpkin shapes from the dough then carefully transfer them to the baking trays.
Bake for around 15 minutes until golden.
Once cooked, leave the shortbread rounds to cool on the baking trays for a few minutes then transfer to a cooling rack to finish cooling.
Whilst the cookies are cooling, use the gel food colourings to colour the fondant icing as follows; approx. 70g pale orange, 30g bright green, 30g bright yellow, 20g bright orange.
Cut them into the following shapes; green pumpkin stalks (use the pumpkin cookie cutter to help you shape these), pale orange ovals for Duggee's face, yellow circles for eyes, bright orange circles his nose and tiny bright orange circles for pupils.
When the shortbread cookies are completely cool, use the writing icing as 'glue' to attach the fondant icing features to the pumpkin cookies.
Pinch off small pieces of the remaining yellow fondant and roll them between your fingers to make tiny sausage shapes. Bend them into shape for Duggee's mouth. Add them to the cookies (use a tiny dab of water to secure them if needed) to finish off the Duggee Pumpkin Faces.
The perfect spooky treat for your Hey Duggee Halloween parties! ????