Duggee Frightful Fruit Platter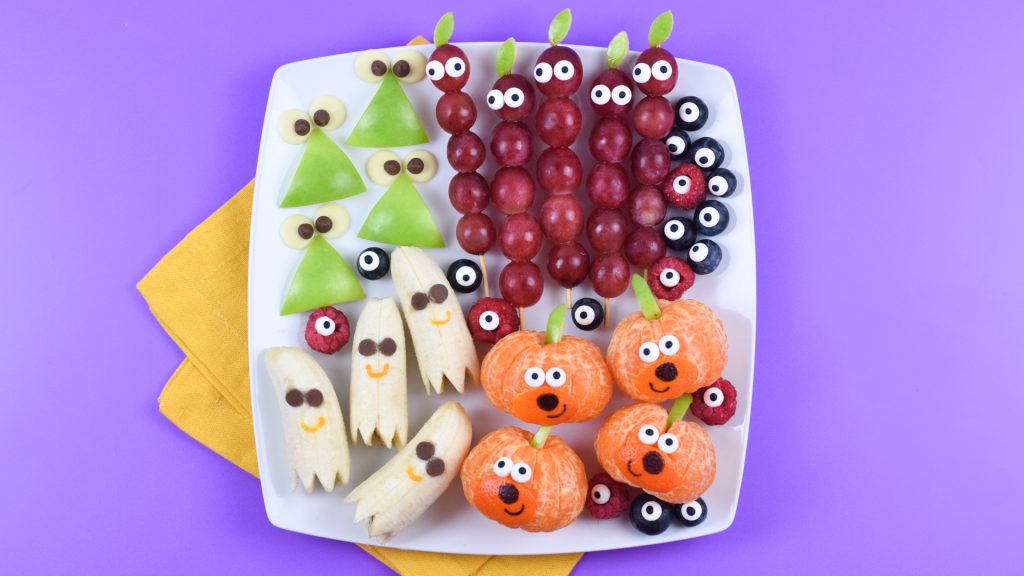 This frightening fruit platter features pick of the patch Duggee orange pumpkins, ghost bananas, green apple frogs and sticky stick fruit kebabs.
Whipping up these treats is a blast, and munching on them is even better. Go ahead, give it a try!
YOU WILL NEED
(makes 15-20)
2 Bananas
Milk chocolate chips
Tube of orange writing icing
2 Green apples
1 Tsp lemon juice
White chocolate buttons
Milk chocolate chips
Red grapes
Edible eye sprinkles
1 Tsp cream cheese
4 Clementines or satsumas
Assorted fresh berries (e.g. blueberries, black berries and/or raspberries)
Note: A grown-up is needed to supervise and help with small pieces and preparation. Small fruit pieces should be chopped up to reduce the risk of choking.
METHOD
Ghost Bananas
Peel bananas and cut in half as pictured. Using a small sharp knife, cut a zig-zag pattern on the chopped end of each banana for the bottom of the ghost. Push 2 chocolate chips into each ghost for eyes, then draw on a mouth with the orange writing icing.
Green Apple Frogs
Cut thick slices from the outside of the apples, then cut each apple slice into a triangle shape. Fill a small bowl with water, add a teaspoon of lemon juice and dip the apple triangles into the lemon water to prevent browning. Pop them onto a piece of kitchen paper to dry off, then arrange on the plate and add white chocolate buttons topped with milk chocolate chips for the eyes.
Sticky Stick Fruit Kebabs
Note: for younger children, cut the grapes in half lengthwise before using to reduce the risk of choking.
Cut leftover green apple pieces into leaf shapes and dip in lemon water as before. Thread red grapes onto bamboo skewers and top each one with an apple leaf. Add two edible eye sprinkles to each skewer, glueing them in place with cream cheese.
Duggee Orange Pumpkins
Using a small sharp knife, cut an oval into the middle of the peel of each clementine, then take off the remaining peel, leaving the oval in place. Using a non-toxic marker pen, draw a circle at the top of the orange peel oval for Duggee's nose. Pop 2 edible eye sprinkles above the nose, gluing them in place with a little cream cheese if needed. Finish your Duggee pumpkins with green apple 'stalks', cut from the leftover apple pieces.
Remember to share your wonderful Duggee fruit platters with us by tagging @HeyDuggee on socials or sending photos by direct message. Enjoy!