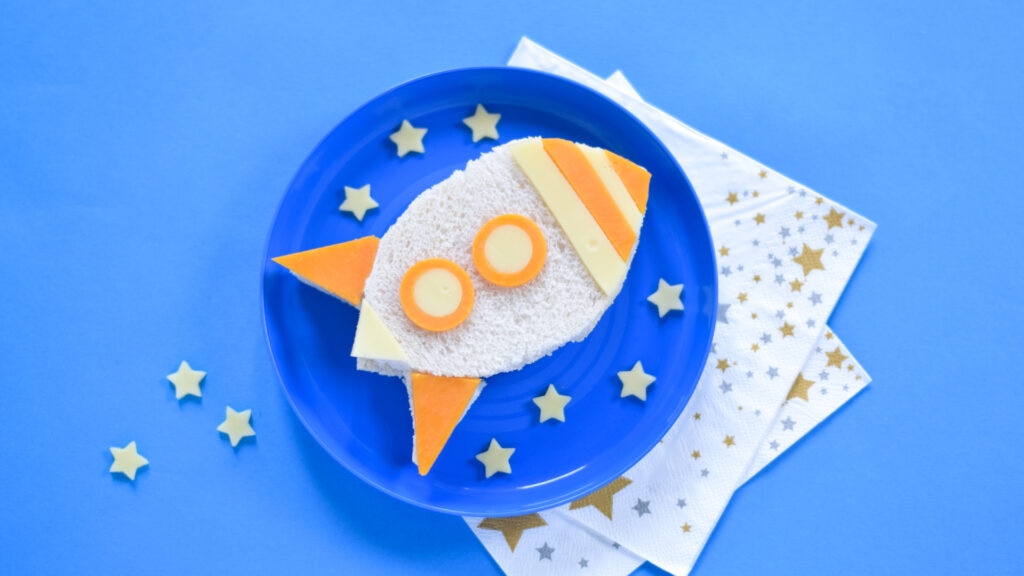 Ingredients (serves 1):
2 slices white bread
Sandwich filling of your choice
1 slice red Leicester cheese
1 slice gouda cheese
Method:
Make up your sandwich with a sandwich filling of your choice.
Using a large round cookie cutter (or cut around the edge of a small bowl), cut a pointed oval shape from the sandwich and remove the excess sandwich pieces.
Cut two triangles from the remaining sandwich scraps for rocket 'legs'.
Place the two slices of cheese on top of each other. Using the sandwich as a guide, cut a shape from the cheese slices which covers the top quarter of the rocket. Cut the cheese shape into slices and use to decorate the rocket, alternating colours for the stripes.
Cut two circles from red Leicester cheese, then cut a smaller circle from the middle of each one to create rings. Use the same smaller cutter to cut two small circles from the gouda cheese, and place inside the rings of red Leicester. Pop on top of the rocket for the windows.
Cut two triangles from the remaining red Leicester and use to top the two triangle rocket 'legs'.
Cut a small triangle from the gouda for the base of the rocket.
Carefully assemble your rocket sandwich on a plate.
Cut small stars from any leftover cheese and arrange them on the plate around the rocket.
Serve immediately.
Enjoy your out-of-this-world Hey Duggee rocketship sandwich! ????
#DuggeeSpaceMonth