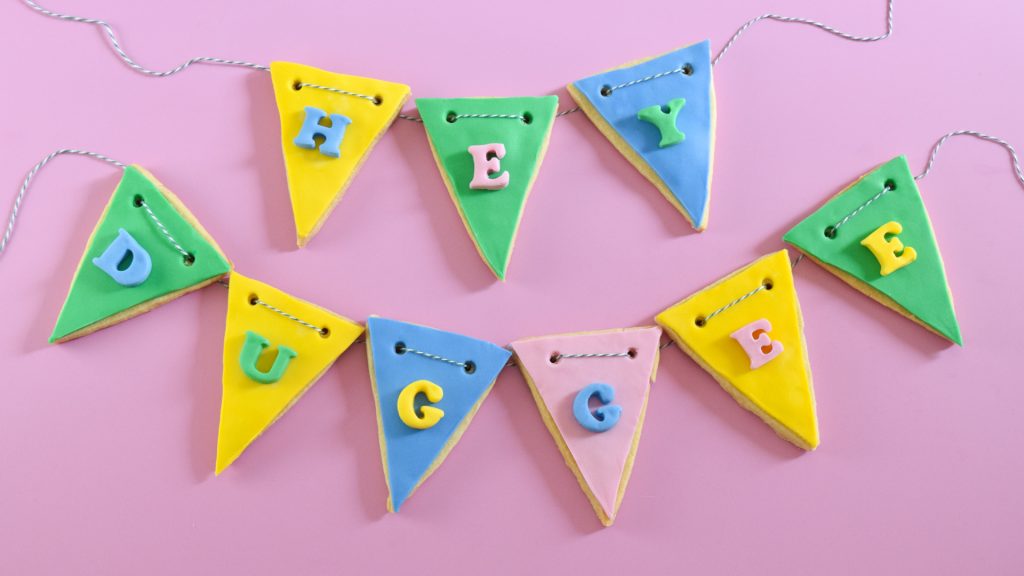 Ingredients (makes approx. 16 cookies):
250g unsalted butter
125g golden caster sugar
2 tsp vanilla extract
375g plain flour
To decorate:
500g fondant icing
gel food colourings
icing sugar for dusting
Note: Make sure you have a grown up with you to help with baking!
Method:
Preheat oven to 160°C (Gas mark 2/325°F). Line 2 baking trays with baking paper.
Place the butter and sugar in a large mixing bowl, then whisk together until pale and fluffy.
Add the vanilla extract and whisk again until well combined.
Sieve in the flour. Whisk again until the mixture comes together in a dough.
Roll the dough out on a lightly floured surface to around 1cm thick.  Cut a triangle from thick card and use as a template to cut the dough into triangles. Our triangles were approx. 10cm x 6cm in size.
Using the end of a paper drinking straw or tiny round cutter, cut two circles in the top of each triangle 'flag', making sure they aren't too close to the edges.
Carefully transfer to the baking trays, then bake for around 15 minutes until golden.
After removing from the oven, poke the holes in the tops of your cookie flags with a skewer to make sure they are still wide enough to thread string through.
Leave the cookies to cool on the baking trays for 10 minutes before transferring to a cooling rack to finish cooling.
Whilst the cookies are cooling, use the gel food colourings to colour the fondant icing a variety of colours.
Roll out the icing and cut into triangles, using the same template as you did for the cookies.
When the shortbread cookies are completely cool, brush the backs of the fondant triangles with a little water and stick them to the cookies, smoothing down the icing as you stick them on. Carefully cut holes in the fondant above where the holes in the cookies are.
Cut letters spelling out 'HEY DUGGEE' from leftover fondant and stick one to each of the cookies with water.
String the cookies together with string or ribbon to make edible bunting.