How to make a rainbow cake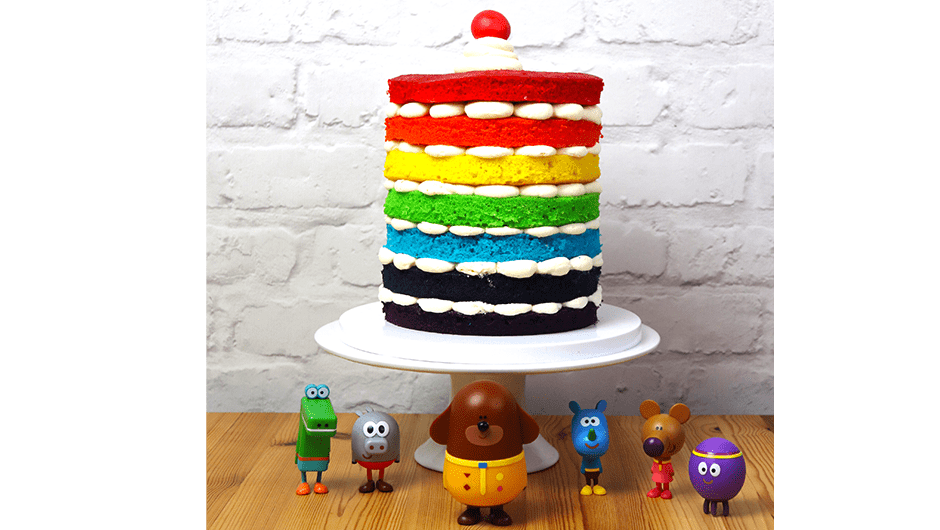 Ingredients
For the Cakes:
700g slightly salted butter
700g caster sugar
14 medium free range eggs
3½ tsps vanilla extract
700g self raising flour
2 tsps baking powder
3-4 tbsp whole milk
½ tsp of gel food colourings in red, orange, yellow, green, blue, indigo and purple.
For the Buttercream:
500g slightly salted butter
1kg icing sugar
2 tbsp vanilla extract
For the Filling:
Your favourite strawberry or raspberry jam
To decorate:
1 glacé cherry or make one with ready-to-roll icing.
Method
1. Start by asking an adult to help you preheat your oven to 180°C/160°C fan/GM 4 and grease and line two 8" round cake tins.
2. In a large bowl, use a wooden spoon to mix together 200g of butter and 200g of sugar until they are light, creamy and pale in colour.
3. Next, crack four of your eggs into a jug and whisk until their nice and smooth. Carry on stirring the butter and sugar mixture, while slowly adding the eggs and ½ teaspoon of vanilla extract.
Duggee's Top Tip: If the mixture starts to look a bit lumpy or like it might be curdling, you can add some of your flour to help it mix more smoothly.
4. Use a sieve to add 200g of your flour into the bowl and mix it again until you can't see the flour anymore. If you're finding it a bit stiff and hard to mix, you can add 1-2 teaspoons of milk.
5. Share the mixture equally between two bowls, adding half a teaspoon of red gel food colouring to one and half a teaspoon of orange gel food colouring to the other. Stir them really well until the mixture is all one colour and then pour them into your lined cake tins.
6. Ask an adult to put your cakes into the oven for around 25-30 minutes, until they have risen and feel spongy when your adult touches them.
7. Let the cakes cool down in the tins for around ten minutes, before asking your adult to take them out of the tins and put them on a wire rack to cool completely.
8. Repeat steps 2-7 until you have made seven sponges in all of the colours of the rainbow – red, orange, yellow, green, blue, indigo and purple.
9. While your cakes are cooling down, you can make your buttercream. It's easier to do this with an electric whisk or a stand mixer if you have one at home. Begin by mixing your butter until it is very pale and smooth. This may take a while and make your arm a bit achy, but the longer you do it, the better your buttercream will be.
10. Then you can start adding the icing sugar, a little bit at a time, mixing it in before you add the next bit.
11. Finally, add the vanilla extract, and mix it one more time until the buttercream is really smooth.
12. Ask your adult to put your buttercream into a piping bag and to snip off the end to make a round hole (you can use a round piping tip if you have one).
13. Once your cakes are completely cool, ask an adult to trim off all of the brown cooked edges from around your cakes. This will help the cake look really bright and colourful!
14. When you are ready to put your cake together, put the purple cake onto your serving plate and pipe 'blobs' or 'kisses' around the edge. You can look at the picture to help you, but you might want to get your adult to help you with this bit. You can also spread some more buttercream inside the 'blobs' too.
15. If you like jam in your cakes, you can add some into the middle, on top of the buttercream, before placing the indigo cake on top.
16. Repeat steps 14-15, until all of the cakes have been added (we like to alternate jam layers with plain buttercream layers).
17. Finally, pipe a small swirl of buttercream in the middle of the top cake, just like an ice cream, and add a cherry (or a pretend cherry made from red icing) on top.
Remember to use #HeyDuggee when you share your rainbow cakes online!