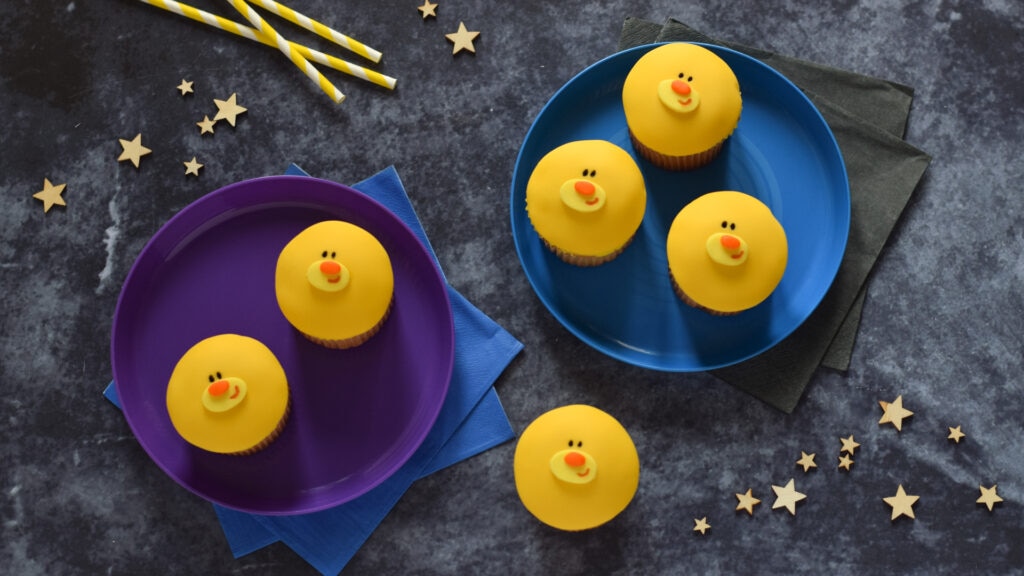 Ingredients (makes 12 cupcakes)
For the cupcakes:
175g softened butter
175g golden caster sugar
3 large eggs
175g self-raising flour
2 tbsp milk
2 tsp vanilla extract
For the butter icing:
100g softened butter
225g icing sugar
1 tsp vanilla extract
1 tbsp milk
yellow gel food colouring
To decorate:
350g fondant icing
yellow and orange gel food colouring
icing sugar for dusting
black and orange edible pens
Note: Make sure you have a grown up with you to help with baking!
Method:
Preheat the oven to 180°C (Gas mark 4/350°F). Line a 12 hole muffin tin with 12 cupcake cases.
Place the butter in a mixing bowl and whisk together with the caster sugar until light and fluffy. Break the eggs into a bowl and lightly whisk with a fork. Add the eggs a little at a time to the butter and sugar mix, whisking in between.
Sift the flour on top, and using an electric whisk on a low speed, gently blend the ingredients together. Add the milk and vanilla extract and blend again. Increase the mixer speed and whisk for a few more seconds until well mixed.
Divide the cake mixture between the cupcake cases. Bake for 20-25 minutes until risen, golden and springy to the touch. Once the cakes are cooked, transfer to a wire rack to cool.
When ready to decorate, make the buttercream icing. Whisk the butter with an electric whisk until light and fluffy. Sift in the icing sugar, a little at a time, until completely combined. Add the vanilla extract and whisk again. Add the milk in small splashes until the icing is at the correct consistency for piping.
Divide the fondant icing and colour as follows: 250g bright yellow, 60g pale yellow, 40g bright orange.
Roll the bright yellow fondant out on a surface lightly dusted with icing sugar, to around the thickness of a £1 coin. Using a round cookie cutter that is slightly bigger than the top of your cupcakes, cut out 12 circles for the base of the toppers.
Roll out the pale yellow icing and cut 12 small oval shapes. Roll out the orange icing and cut 12 tiny oval shapes. If you don't have oval shaped cutters, cut out circles instead then carefully shape into ovals with your fingers.
Once the cakes are cool, spread a layer of buttercream over each one. Carefully place a yellow fondant circle on top, pressing gently around the edges to mould it to the top of the cake.
Place a pale yellow oval in the middle of each cupcake, securing it in place with a dab of water if needed.
Add the tiny orange oval 'noses', again sticking them in place with water if necessary.
Use the edible pens to draw two black eyes and an orange mouth onto each cupcake!
Enjoy these super fun Duggee sun cupcakes!