Earn your Cake Badge by making this beautiful jam filled cake. Full recipe details below.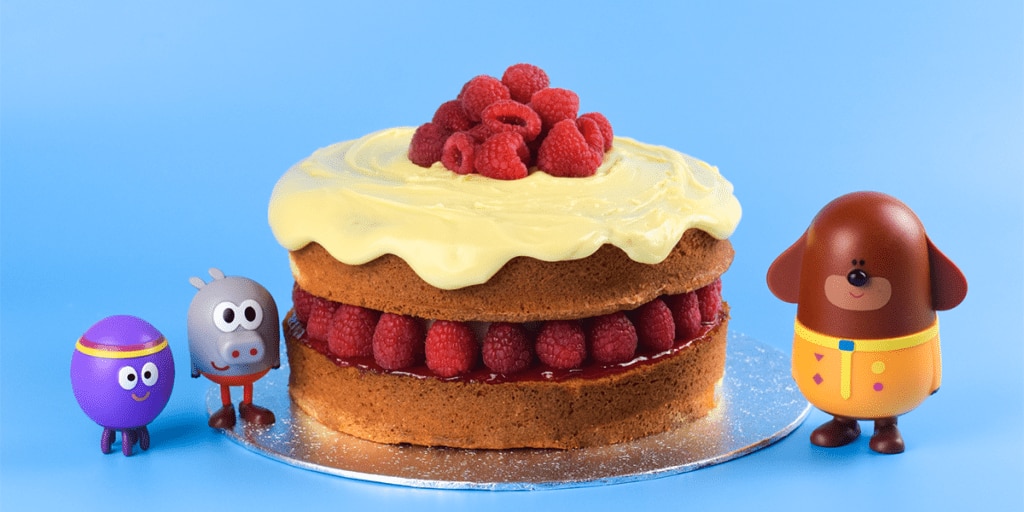 Ingredients:
For the cake:
225g butter (softened)
225g caster sugar
4 large eggs
225g self-raising flour
1 tsp baking powder
2 Tbsp milk
1 tsp vanilla extract
To decorate:
250ml double cream
150g seedless raspberry jam
150g fresh raspberries
150g white chocolate
Note: Grown ups needed for help and supervision.
Method:
Preheat oven to 190°C (Gas mark 5/375°F). Grease and line the base of 2 x 20cm round sandwich cake tins.
Pop the butter and caster sugar in a large bowl and whisk together until well combined and fluffy.
Add the eggs, one at a time, whisking after you add each egg.
Sift in the flour and baking powder. Add the milk and vanilla then whisk again until fully combined.
Divide the mixture between the 2 tins, gently smoothing the tops down with a spatula.
Bake in the pre-heated oven for 20 minutes, until the cakes are golden and springy to the touch.
Turn the cakes out onto cooling racks and leave to cool completely.
Once the cakes are completely cool, pop 200ml of the cream into a bowl and whisk until fluffy. Pop into a piping bag with a wide round nozzle.
Level the cakes if needed, then spread the jam over the top of one of the cakes.
Reserve a handful of raspberries for the top of the cake, then arrange the rest around the edge of the cake, on top of the jam.
Pipe the whipped cream to fill the middle of the cake then top with the second cake.
Break the white chocolate into a microwave safe bowl and add the remaining 50g of double cream.
Gently heat in 20 second bursts until the chocolate is melted and smooth, stirring in between.
Spoon the white chocolate mixture over the top of the cake, pushing it gently to the edges with the back of the spoon so that it drips down the side a little.
Pile the remaining raspberries on the top to decorate.
Pop the cake in the fridge for ½ hour to set the ganache before serving.
Enjoy it with friends and family!