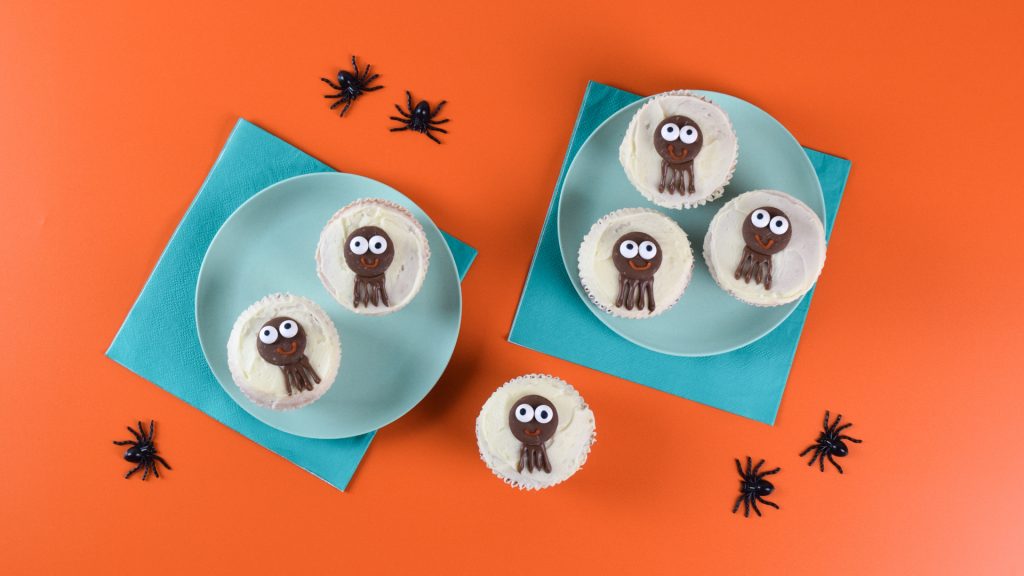 Ingredients (makes 12 cupcakes):
For the cupcakes:
175g softened butter
175g golden caster sugar
3 large eggs
175g self raising flour
2 Tbsp milk
2 tsp vanilla extract
For the butter icing:
100g softened butter
225g icing sugar
1 tsp vanilla extract
1 Tbsp milk
To decorate:
100g milk chocolate
12 giant chocolate buttons
24 edible candy eyes
red writing icing
Note: Make sure you have a grown up with you to help with baking!
Method:
Preheat the oven to 180°C (Gas mark 4/350°F). Line a 12 hole muffin tin with 12 cupcake cases.
Place the butter in a mixing bowl and whisk together with the caster sugar until light and fluffy. Break the eggs into a bowl and lightly whisk with a fork. Add the eggs a little at a time to the butter and sugar mix, whisking in between.
Sift the flour on top, and using an electric whisk on a low speed, gently blend the ingredients together. Add the milk and vanilla extract and blend again. Increase the mixer speed and whisk for a few more seconds until well mixed.
Divide the cake mixture between the cupcake cases. Bake for 20-25 minutes until risen, golden and springy to the touch. Once the cakes are cooked, transfer to a wire rack to cool.
When ready to decorate, make the buttercream icing. Whisk the butter with an electric whisk until light and fluffy. Sift in the icing sugar, a little at a time, until completely combined. Add the vanilla extract and whisk again. Add the milk in small splashes until the icing is at the correct consistency for piping.
Once the cakes are completely cool, spread a layer of buttercream over each one.
Break the chocolate into a microwave safe bowl and heat at 30 second intervals, stirring in between, until just melted and smooth.
Spoon the melted chocolate into a disposable piping bag.
Snip the bottom from the piping bag and pipe on chocolate 'legs' for each spider. Top with a giant chocolate button for the spider's body.
Use the leftover melted chocolate to stick two edible candy eyes to each spider.
Draw a mouth on each spider with the red writing icing.
Pop the cupcakes into the fridge until the chocolate legs have just set, then store in an airtight container until ready to serve.