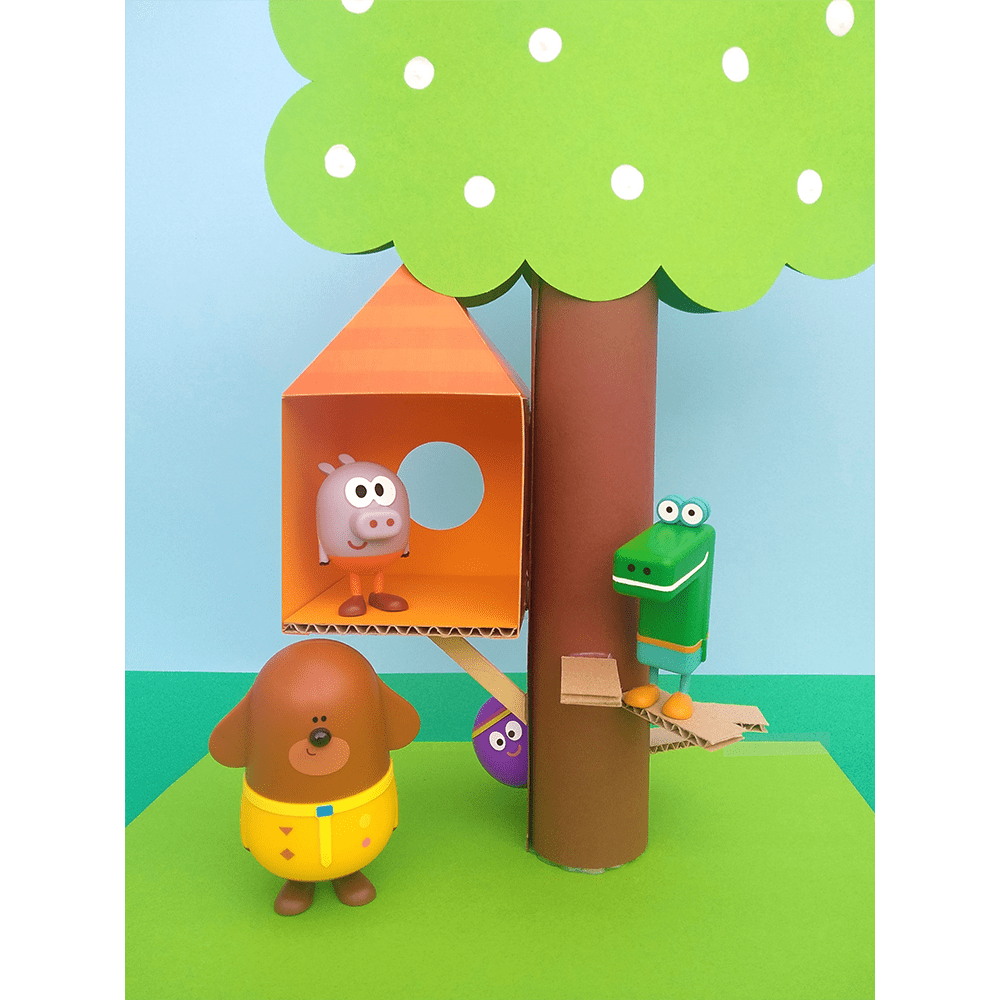 Treehouse Craft
You will need:
Coloured paper: orange, brown and green
Cardboard
Kitchen paper tube
Small paper tube
Tape
Popsicle stick
White paint
Pencil/Marker
Scissors
Paper Glue
Quick-drying strong glue or glue gun
Note: Make sure you have a grown up with you to help with scissors and small pieces
Instructions
Glue the treehouse template to the orange paper and ask a grown-up to help you cut out all the shapes.
Carefully fold along the dashed lines so the house starts to take shape. Take your time so that the paper doesn't crack.
Working with one roof section at a time, and one tab at a time, glue all the roof sections.
Glue on the separate triangle piece to close the roof.
Using a pencil trace around the floor template on the cardboard and orange paper. Cut out the two squares and glue them together.
Glue the floor piece inside the house – a nice solid base for the squirrels to play on.
Next, we make the grass base. Cover a large piece of cardboard with green coloured paper and leave aside.
To make a nice tall tree trunk, cut the small paper tube along one side and join it around one end of the kitchen paper tube with sticky tape, as the picture shows.
Cover the paper tube trunk with the brown coloured paper.
Next, glue the house to the tree trunk with your strong glue or glue gun and let it dry. Then glue the trunk to the base.
Now for the steps – follow the step template, cut out five pieces of cardboard and glue around the tree trunk, as shown.
Cut off the ends of the popsicle stick and glue between the tree trunk and base of the house for extra stability.
Now to make the tree top.- using the cloud pattern, cut out two pieces of green coloured paper. Glue together on each side.
Dip your fingertips in white paint to add detail to your treetop.
Now for the finishing touch – glue the crown over the top of the trunk.
Have fun playing with your new Hey Duggee figurine set and stay tuned for more toy craft ideas from the Squirrel Club! A-WOOF!