Norrie's Gingerbread House by Steven Carter-Bailey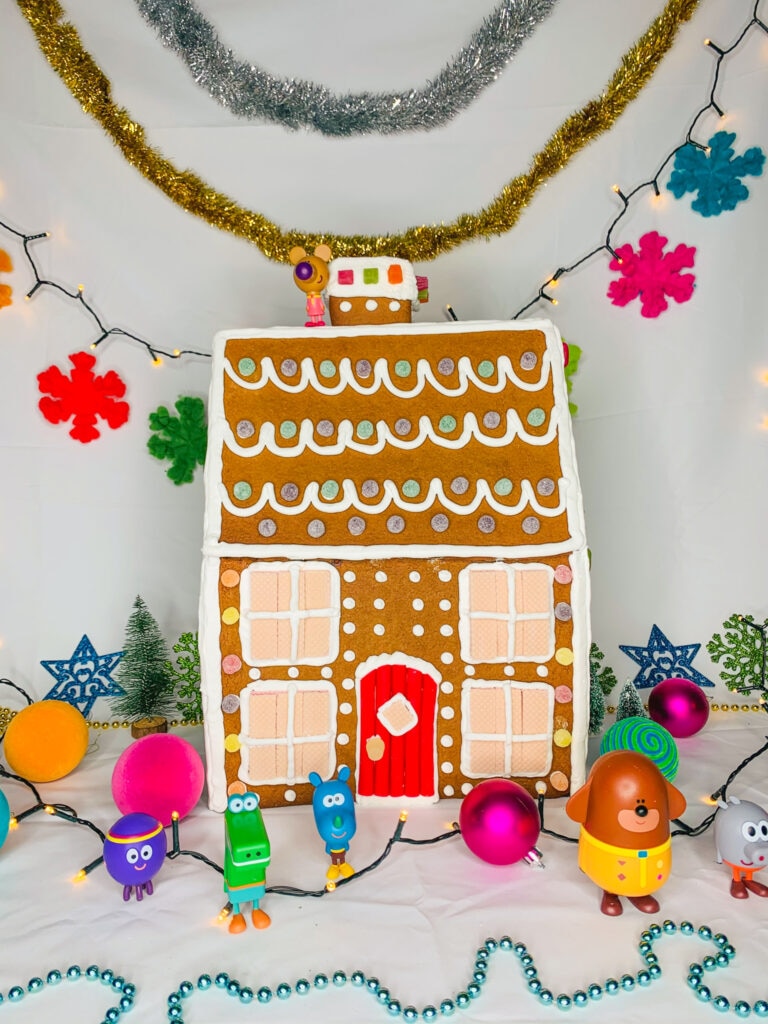 Norrie's favourite thing at Christmas is creating her very own Gingerbread House. Follow the recipe below to recreate this festive treat at home. The recipe is by the wonderful Steven Carter Bailey!
Ingredients
Gingerbread
525g plain flour
1 ½ tsp bicarbonate of soda
5 tsp ground ginger
1 ½ ground cinnamon
185g unsalted butter
260g light brown sugar
2 medium eggs (lightly beaten)
6 tbsp runny honey
Royal Icing
2 large egg whites (pasteurised)
400g icing sugar
1 tsp liquid glucose
½ tsp lemon juice
Method
This is a great activity that can be done over a weekend. Because of the drying time, it's great to keep revisiting this project over a few days.
Preheat your oven to 180c fan
Sift together your dry ingredients, then rub in the butter until the mix resembles breadcrumbs (you can do this in a stand mixer). Stir through your sugar then pour in the honey and eggs. Mix this together until it forms a dough. Turn out onto a floured surface and knead it until it is smooth. Cover in plastic and refrigerate for an hour.
Roll the dough out to 5-8mm thick and cut out your panels for the house and chimney (the chimney pieces will be smaller, so they will need to bake separately).
Bake each piece in the centre of the oven for 10-13 minutes (10 minutes for the smaller pieces). Once baked, move them to a wire rack and allow to cool completely.
To make the royal icing, sift the icing sugar into a bowl and add the egg whites, glucose and lemon juice. Use a hand whisk or a stand mixer to whip this for 90 seconds until light and frothy. Spoon this into a piping bag and cut the tip off.
Prepare your surface where the finished gingerbread house will sit – you won't want to move it once it's finished.
Pipe lines of the royal icing along the edges of the panels and press them together – they will need to dry for a couple of hours, so it's best to rest something up against them like a jar or a can and leave them alone. Once the sides of the house are stuck and dried, you can do the same with the roof. These panels are slightly harder to keep in place, but do try to give them another few hours to make sure they don't budge.
You can make a small chimney to sit on the roof, but this is optional.
Now the fun begins! Why not take a trip to the sweetie aisle in the supermarket and see what shapes you can find to stick on your house. I used pink wafers for the windows, strawberry laces and jelly beans for the fairy lights and midget gems for decoration.
Pipe lots of royal icing over your gingerbread house to make it look like a snowy scene. The royal icing is great for sticking on your sweets and decorations as well; you can always add a drop of peppermint oil to your icing for a delicious flavour and a lovely festive smell.
Once you've finished your house, don't forget to take a picture and tag Hey Duggee!