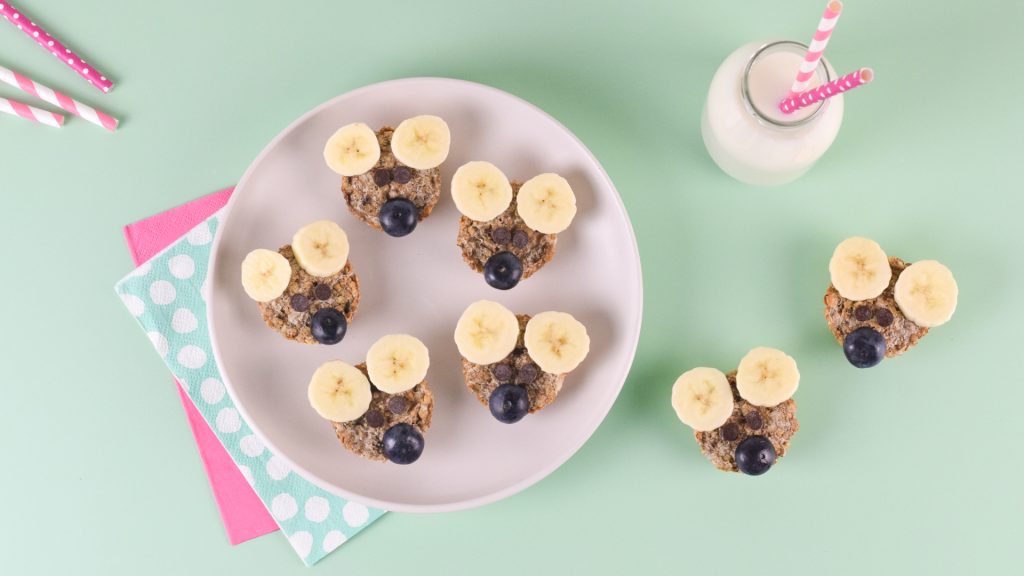 Ingredients (makes 10):
2 large ripe bananas
80g oats
½ tsp vanilla extract
To serve:
1 small banana, sliced
10 blueberries
20 dark chocolate chips
Method:
Preheat oven to 180°C (Gas mark 4/350°F). Lay out 10 silicone muffin cups on a baking tray.
Peel the bananas, then use a fork or a potato masher to thoroughly mash up the flesh.
Pop mashed banana into a bowl and add the oats and vanilla extract.
Mix well until ingredients are completely combined.
Divide the mixture between the 10 muffin cups and press each one down firmly with the back of a spoon.
Bake for 15 minutes until the edges are starting to brown and crisp up.
Remove from the oven and leave to cool for a few minutes until the silicone cups are cool enough to handle.
Pop the bites from the muffin cups and leave to cool completely on a cooling rack.
When ready to serve, decorate each porridge bite with 2 banana slice 'ears', 2 chocolate chip 'eyes' and a blueberry 'nose' to make a Norrie face.
Once decorated, serve immediately.