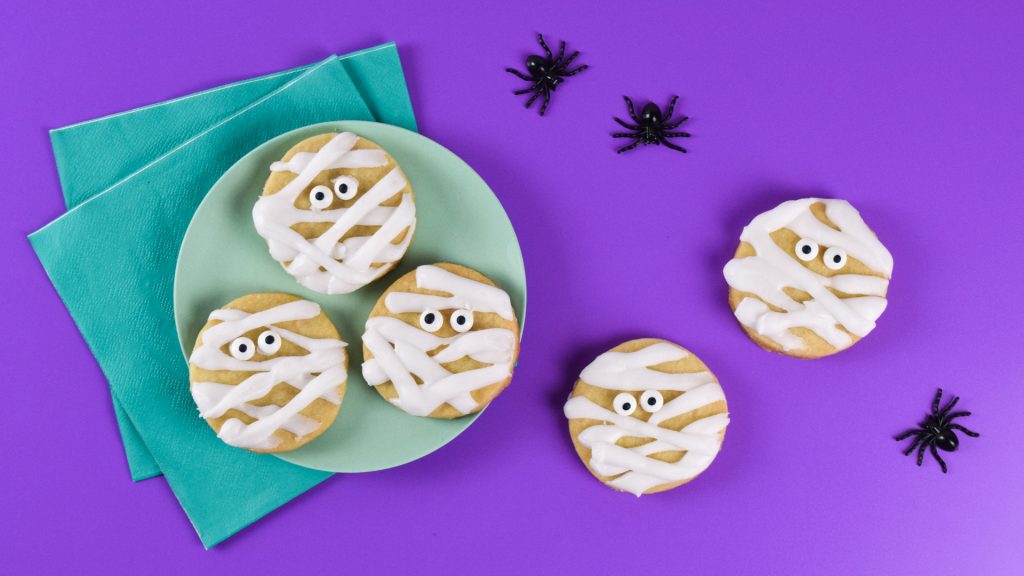 Ingredients (makes approx. 24 cookies):
For the cookies:
250g butter
125g caster sugar
375g plain flour
2 tsp vanilla extract
To decorate:
250g icing sugar
edible candy eyes
Note: Make sure you have a grown up with you to help with baking!
Method:
Preheat oven to 160°C (Gas mark 2/325°F).
Line 2 large baking trays with baking paper.
Place the butter and sugar in a large mixing bowl, then whisk together until pale and fluffy.
Sieve in the flour, then add the vanilla extract. Whisk again until the mixture comes together in a dough.
Roll the dough out on a lightly floured surface to around 1cm thick. Using a small round cookie cutter, cut circles from the dough, then carefully transfer them to the baking trays.
Bake for around 15 minutes until golden.
Once cooked, leave the shortbread rounds to cool on the baking trays for a few minutes then transfer to a cooling rack to finish cooling.
Once the cookies are completely cool, make the icing:
Sieve the icing sugar into a bowl then a splash of water. Stir well until the sugar has dissolved and the icing is smooth. Add a little more water if needed to get the correct consistency of icing – it should be a thick paste suitable for piping.
Spoon the icing into a disposable piping bag, then snip off the end and pipe zig-zags of lines across the cookies to make mummy 'bandages', leaving a small gap near the top of the cookie for the eyes.
Stick two edible candy eyes in place using the icing as 'glue'
Leave the icing to dry and set.
Once the icing has completely dried, store the cookies in an airtight container, layered with baking paper to separate them, until ready to serve.