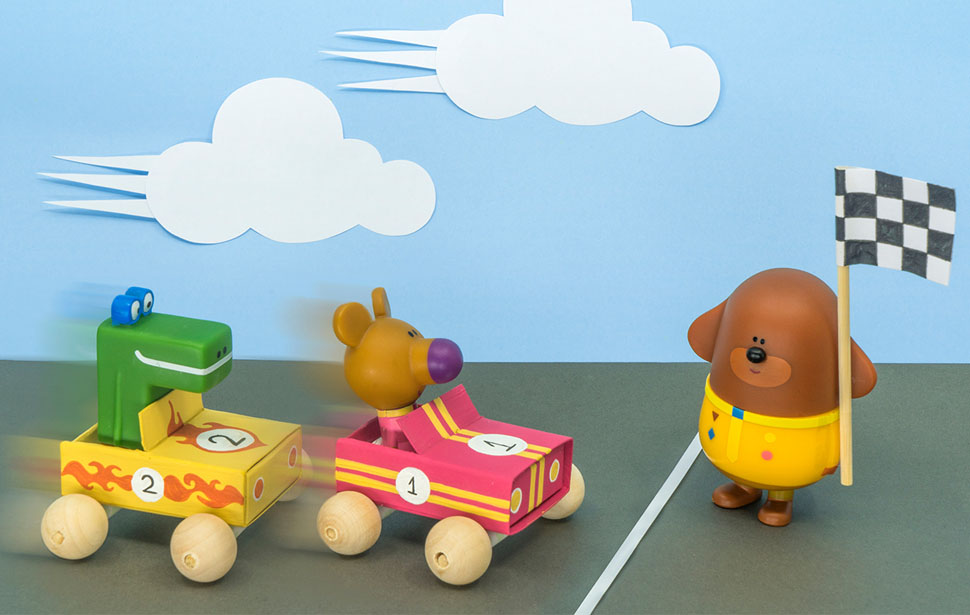 Have a go at making these simple matchbox cars and race your Hey Duggee Squirrels!
YOU WILL NEED:
Matchbox
Wooden Beads
Modelling Clay
Paint & brushes
BBQ skewers
Straw
Pen/marker
Scissors
Quick drying glue
INSTRUCTIONS FOR MATCHBOX RACE CAR
Draw a letter "H" on the outer sleeve of the matchbox. Then cut out the shaded area.
Fold the top backwards to create the car window.
Paint the matchbox in your favourite colours and add any details you like to personalise your race car.
Press a piece of clay into the box for the car seat. Press one of the squirrels into the clay – this will keep the squirrel nice and steady in their seats when zooming past.
To make the working wheels first cut a straw into two pieces and glue to the underside of the car.
Cut two lengths of barbecue skewers. Glue a bead to one end of a skewer. Pass the skewer through the straw and glue the second bead to the other side Repeat this process for the other set of wheels.