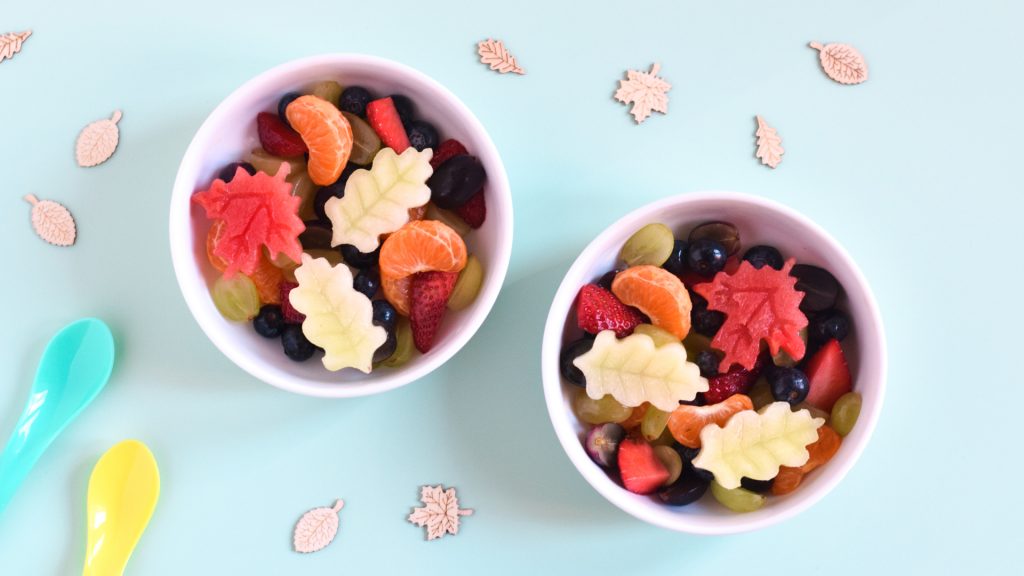 Ingredients (serves 2):
100g green grapes
100g red grapes
75g blueberries
1 large clementine
75g strawberries
2 tsp orange juice
1 tsp honey or maple syrup
1 thin slice watermelon
1 thin slice honeydew melon
Method:
Wash and slice the grapes lengthways. Place in a large bowl, along with the blueberries.
Peel the clementine and break into segments. Discard the skin and add the segments to the bowl.
Cut and discard the tops from the strawberries, then cut the strawberries into quarters and add to the bowl.
In a small bowl, whisk together the orange juice and honey (or maple syrup) until well combined.
Pour the juice and syrup mixture over the bowl of fruit, then gently mix it all together with a large spoon until the fruit is coated in the dressing.
Using leaf-shaped cookie cutters, cut shapes from the melon slices.
Place the fruit salad into a serving bowl then top with the melon leaves to decorate!