How to make Roly's Mini Baked Potatoes
It's not a Roly recipe without potatoes! Try making these mini baked potatoes for you and your little Squirrel.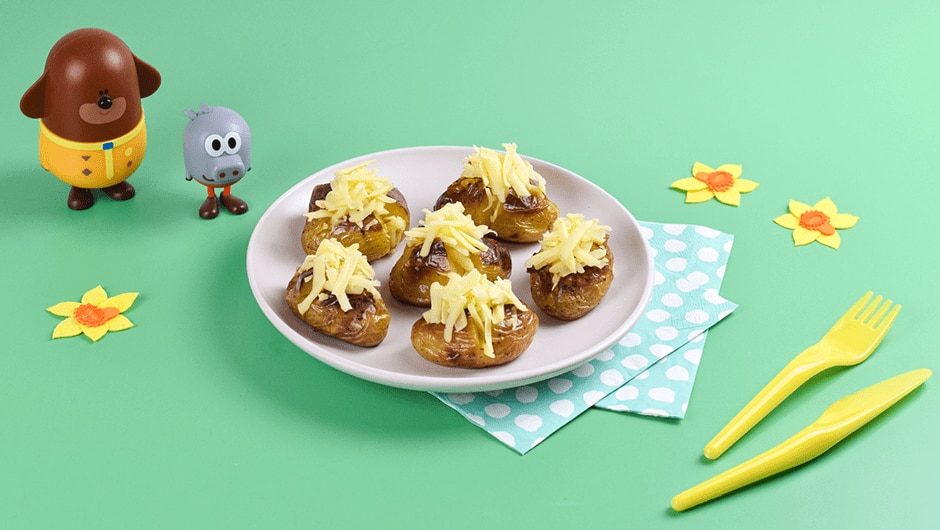 Ingredients:
750g baby potatoes
1 Tbsp olive oil
pinch salt
To serve:
Note: Make sure you have a grown up with you to help with cooking.
To make:
Preheat oven to 200°C (Gas mark 6/390°F).
Scrub the potatoes to clean them, then drain and pat them with a clean tea towel or kitchen paper until completely dry.
Pop the potatoes into a roasting tin, pour over the olive oil, then give them a good shake to coat them. Sprinkle with a little salt to taste.
Bake in the oven for 30 minutes, then remove from the oven, give the potatoes another good shake to turn them and bake again for another 15 minutes until golden and cooked through.
Meanwhile, grate the cheddar cheese.
Once the potatoes are fully cooked, remove from the oven and leave for a few minutes until cool enough to handle.
Using a small sharp knife, cut a cross into the top of each potato and squeeze them slightly to open up the crosses.
Pop the potatoes on a plate to serve, then top each one with a good pinch of grated cheese. Serve immediately and enjoy!