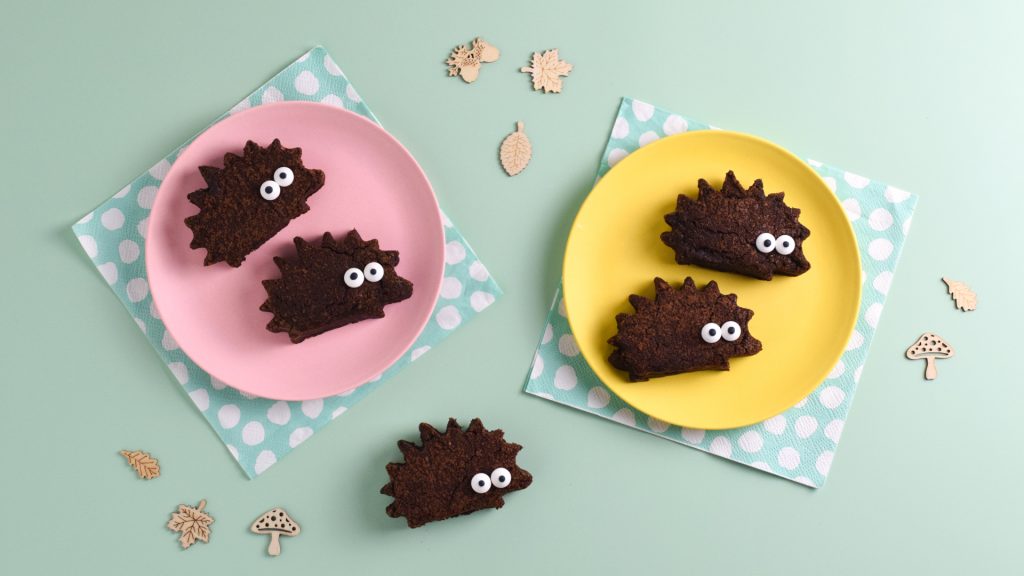 Ingredients:
150g dark chocolate
150g unsalted butter
3 eggs
200g golden caster sugar
175g dark brown sugar
1 tsp vanilla extract
125g plain flour
30g cocoa powder
candy eyes
Note: Make sure you have a grown up with you to help with baking!
Method:
Preheat oven to 180°C (Gas mark 4/350°F). Line a small rectangular cake tin with baking parchment.
Break or chop the milk chocolate and dark chocolate into chunks and place in a microwave safe bowl along with the butter.
Heat in the microwave for short bursts of around 30 seconds, stirring in between, until the chocolate has almost melted. Be careful not to overheat or burn the chocolate.
Once the chocolate is melted, stir with a spoon until the mixture is fully combined and smooth.
In a separate large bowl, lightly whisk the eggs, then add the sugars and vanilla extract and whisk again until well combined.
Add the melted chocolate mixture and whisk again.
Sift in the flour and the cocoa powder, then whisk again until just combined.
Pour the mixture into your lined cake tin and bake in the oven for 40 minutes.
Once cooked, remove from the oven and leave in the tin to cool for 10 minutes or so.
Carefully tip out onto a chopping board while still slightly warm, and use a cookie cutter to cut as many hedgehogs from the brownie as you can.
Pop the hedgehogs on a plate and finish each one with 2 candy eyes, pushing the eyes gently into the top of the brownie to hold them in place.
Serve warm or leave to cool completely before storing in an airtight container.