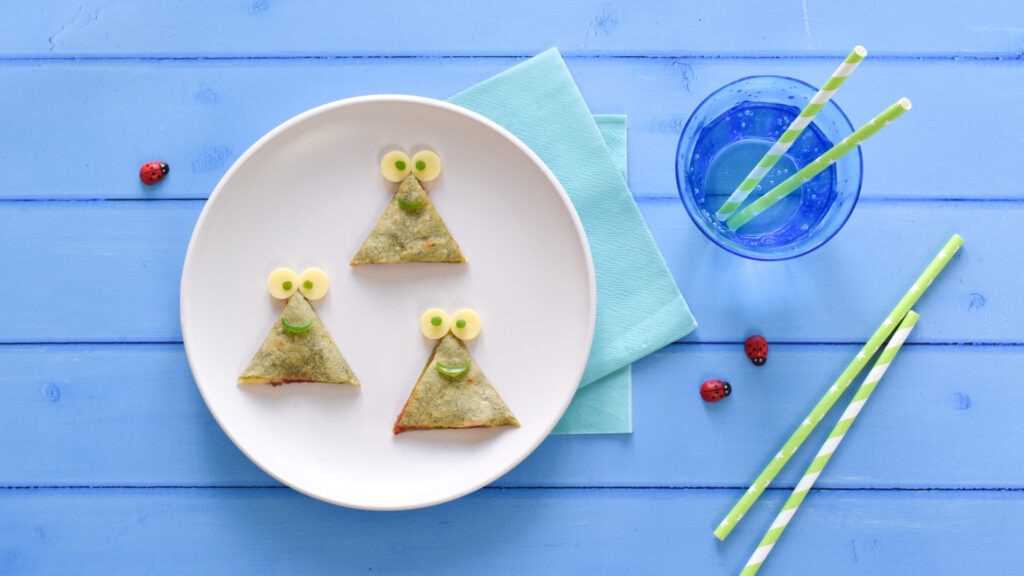 Quesadilla Pizza Frogs Recipe
Ingredients (makes 4):
2 spinach tortilla wraps
1 Tbsp tomato purée
handful grated cheese
¼ red pepper
¼ green pepper
1 slice gouda cheese
Note: Make sure you have a grown up with you to help with baking!
Method:
Spread tomato purée over one of the tortilla wraps and sprinkle with grated cheese.
Finely chop the red and green pepper and sprinkle over the top of the cheese.
Carefully transfer the tortilla pizza to a frying pan and top with the second tortilla.
On medium heat, cook the quesadilla until the cheese has completely melted, flipping halfway through to cook evenly on both sides.
Remove the cooked quesadilla from the pan and leave on a chopping board for a few minutes until cool enough to handle.
Using a large sharp knife, cut the quesadilla into 4 triangles and transfer to a plate.
Cut 8 small circles from the slice of cheese and place 2 above each quesadilla triangle for the eyes.
Cut 16 tiny circles from a slice of green pepper and add to the cheese eyes for pupils.
Cut 4 small half-moon shapes from another piece of green pepper and add one to each frog for the mouths.
Serve warm or cold! A-WOOF!