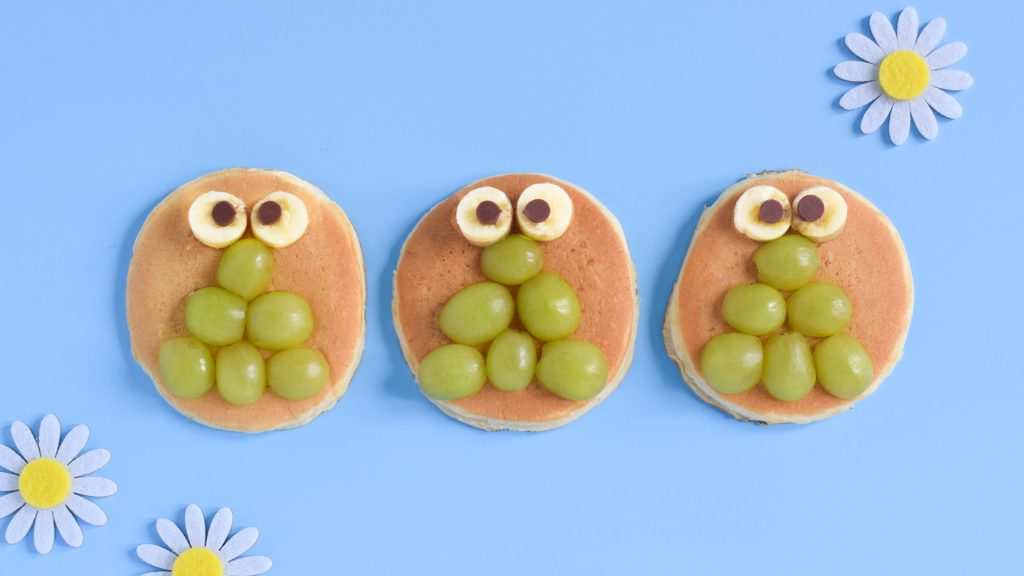 Ingredients:
For the pancakes:
140g self-raising flour
1 tsp baking powder
2 tbsp golden granulated sugar
Pinch salt
125ml milk (or dairy-free equivalent)
1 large egg
2 tbsp vegetable oil
Butter or dairy-free spread for frying
To serve:
Green grapes
1 banana
Handful chocolate chips
Note: Make sure you have a grown up with you to help with baking!
Method:
Measure out the flour, baking powder and sugar and sift into a bowl along with the salt.
In a separate jug or bowl, lightly whisk the egg then mix with the milk and oil.
Mix the wet and dry ingredients together then lightly whisk until well combined and lump-free.
Heat the pan over a medium heat, then drop in the butter and swirl around until completely melted.
Spoon pancake mix into the pan in small pancake-sized circles, making sure you leave enough room between the pancakes to flip them over once ready.
Cook the pancakes until they start to bubble up, then flip them over and cook on the other side until golden.
Remove from the pan and repeat until all the mixture is used up.
To decorate your pancakes, slice green grapes in half lengthways and arrange 6 grape halves in a triangle to make the frog's body.
Cut two slices from the banana and cut into smaller circles using a small round cutter.
Pop the banana 'eyes' in place above the grapes triangle and top them with two chocolate chips.
Repeat until you have decorated as many pancakes as you need!