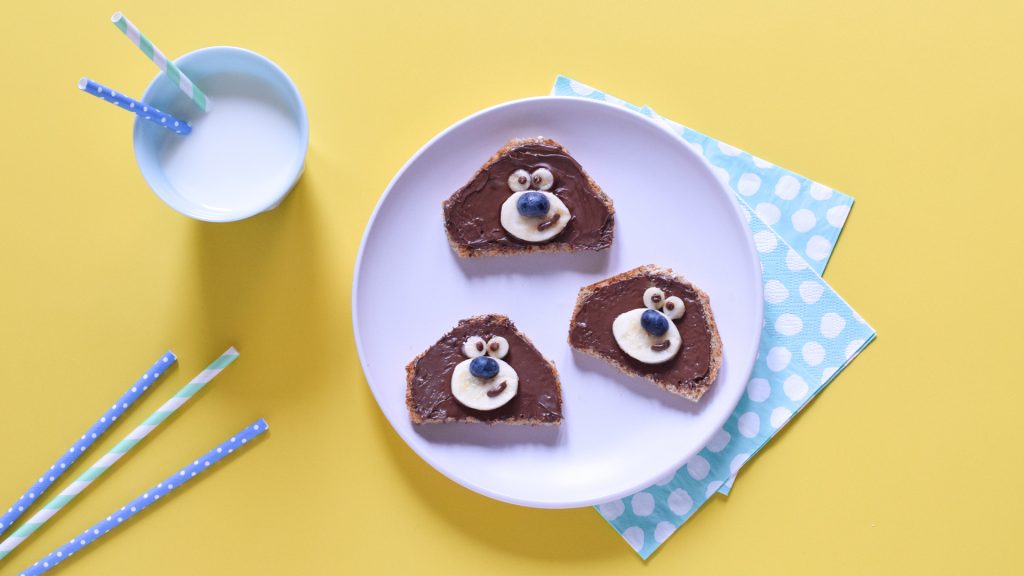 Ingredients:
2 slices wholemeal bread
Chocolate spread
1/2 banana
4 blueberries
Note: Make sure you have a grown up with you to help with cutting!
Method:
Pop the bread in the toaster and toast until golden brown.
Cut each piece of toast in half diagonally, then use a round cookie cutter and a sharp knife to carefully shape the toast triangles into Duggee shapes.
Spread chocolate spread over the toast.
Cut the 4 thin slices from the banana and shape them into ovals.
Cut another 2 slices of banana and cut 8 round circles of banana for the eyes.
Cut the blueberries in half for the noses.
Assemble the Duggee faces on top of the toast.
Spoon a little chocolate spread into a piping bag or freezer bag and snip the very tip from the corner.
Pipe a dot of chocolate spread on each eye for pupils, and pipe a mouth on each toast Duggee to finish.
Serve immediately!