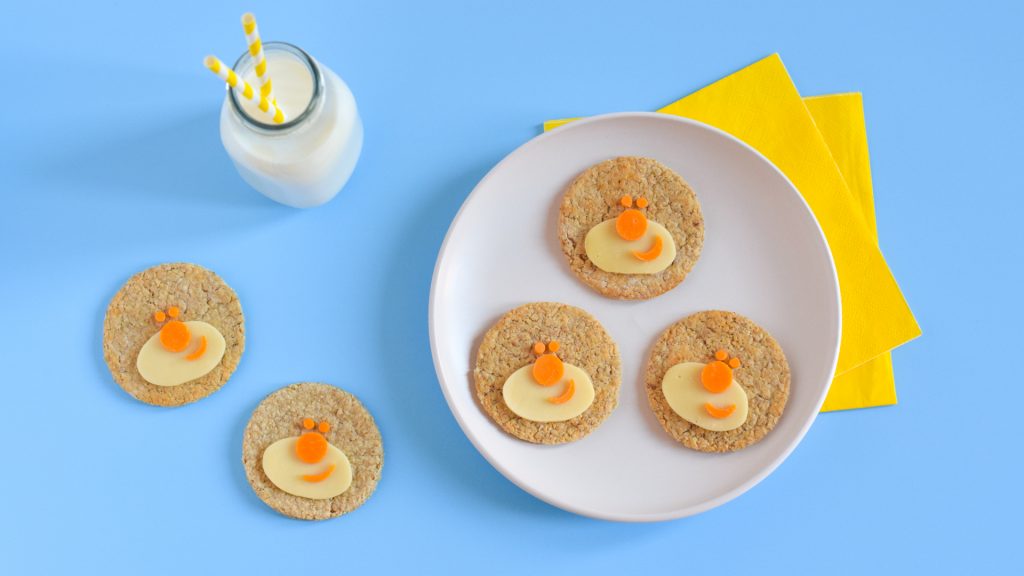 Ingredients (makes 9 large oatcakes):
For the oatcakes:
120g oats
50g cheddar cheese
10g butter
1 tbsp plain flour (for rolling out)
To serve:
2 slices cheddar cheese
1 slice red Leicester cheese
Note: Make sure you have a grown up with you to help with baking!
Method:
Preheat your oven to 200°C (Gas mark 6/400°F). Line a large baking tray with baking paper.
Place the oats in a blender or food processor and whizz until they have the consistency of rough flour.
Grate the cheese using a fine grater and pop it in a bowl with the oats.
Mix together until well combined.
Pop the butter in a small microwave-safe bowl and heat for 15 seconds at a time until melted.
Pour the melted butter into the bowl with the oats and grated cheese, then add 75ml of warm water.
Mix until the mixture comes together in a sticky dough.
Roll out the dough on a floured surface to around the thickness of a £1 coin.
Using large round cookie cutters, cut circles from the dough, gathering up and rolling out the leftovers in between until the dough is all used up.
Carefully transfer the rounds to the lined baking tray, then bake in the preheated oven for 12-15 minutes until the edges of the oatcakes are starting to lightly brown.
Remove from the oven and leave oatcakes on the baking tray for a few minutes, then transfer them to a wire cooling rack to finish cooling.
Once completely cool, use mini circle cutters to cut shapes from the cheese slices to decorate your oatcakes with cheese Duggee faces.