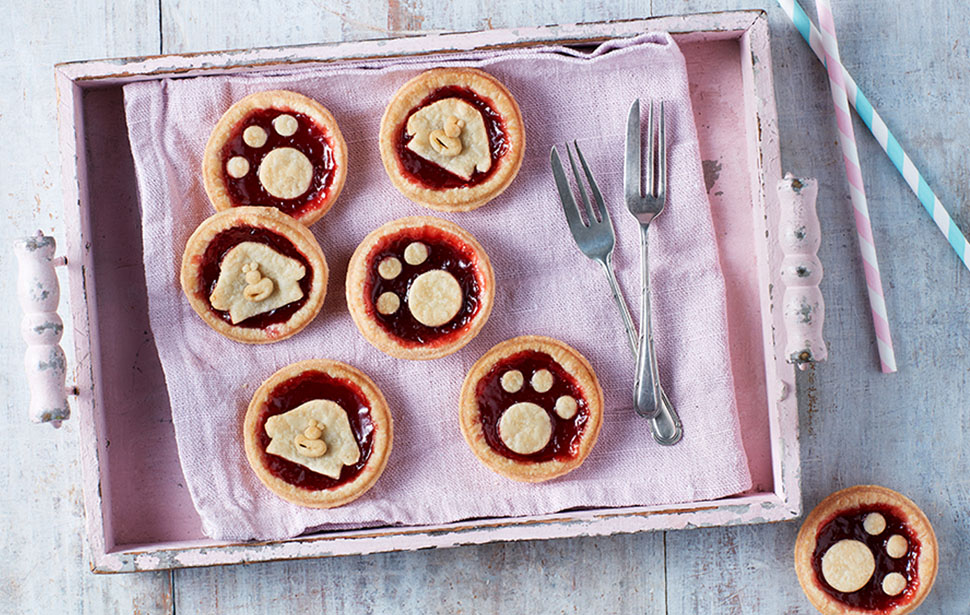 Recipe by April Carter
INGREDIENTS
140g unsalted butter, chilled
250g plain flour
1 tablespoon caster sugar
pinch of salt
2 medium egg yolks
1 jar strawberry jam
Note: Grown ups needed for help and supervision.
METHOD (Makes 24)
Beat the eggs yolks with 4 tablespoons of very cold water. Cut the butter into small cubes and mix in a bowl with the flour, sugar and salt. Cut the butter into the flour and then rub together with your fingertips until the mixture looks like breadcrumbs. Add the yolks and water and mix until a ball forms. Wrap in clingfilm and chill for 20 minutes.
Preheat the oven to 200°C / 180°C fan / gas mark 4 and grease two tart trays. Roll the pastry out onto a floured surface until 3mm thick and cut out 7cm rounds. Line your tart trays and fill each tart with 1 teaspoon strawberry jam taking care not to overfill.
Use a knife and the tip of a large piping nozzle to cut out Duggee's face shape, features and paw prints. Top the jam with the shapes and bake for 10-15 minutes or until the pastry is golden brown.