Duggee Cheese and Ham Muffins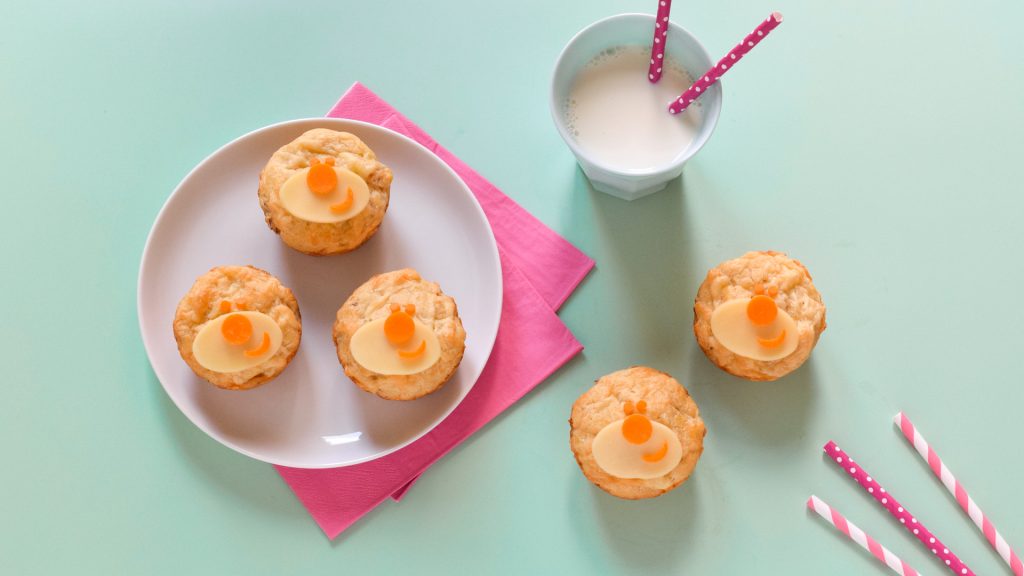 Ingredients:
For the muffins (makes 10):
225g self-raising flour
160g mature cheddar
50g ham slices
175ml milk
1 egg
50ml olive oil + extra for brushing
To serve
2 slices gouda or cheddar cheese
1 slice red Leicester cheese
Note: Grown-ups needed to manage baking, chopping and small pieces.
Method
Preheat oven to 200°C (Gas mark 6/400°F). Lightly brush 10 holes of a 12 hole muffin tin with a little oil.
Measure out and sift the flour into a large mixing bowl.
Grate the cheese.
Roughly chop the ham and add to the flour along with 120g of the grated cheese. Mix with a wooden spoon to combine.
In a separate bowl, whisk together the milk, egg and olive oil.
Add the wet mixture to the dry ingredients and stir until completely combined.
Divide the muffin mixture between the 10 oiled muffin tin holes, then top each muffin with the remaining grated cheese.
Bake for around 20 minutes in the preheated oven until cooked through and golden brown.
Remove from the oven and tip the muffins out onto a wire cooling rack to cool.
Once completely cool, use mini circle cutters to cut shapes from the cheese slices to decorate your muffins with cheese Duggee faces, then serve immediately.