The benefits of yoga for little ones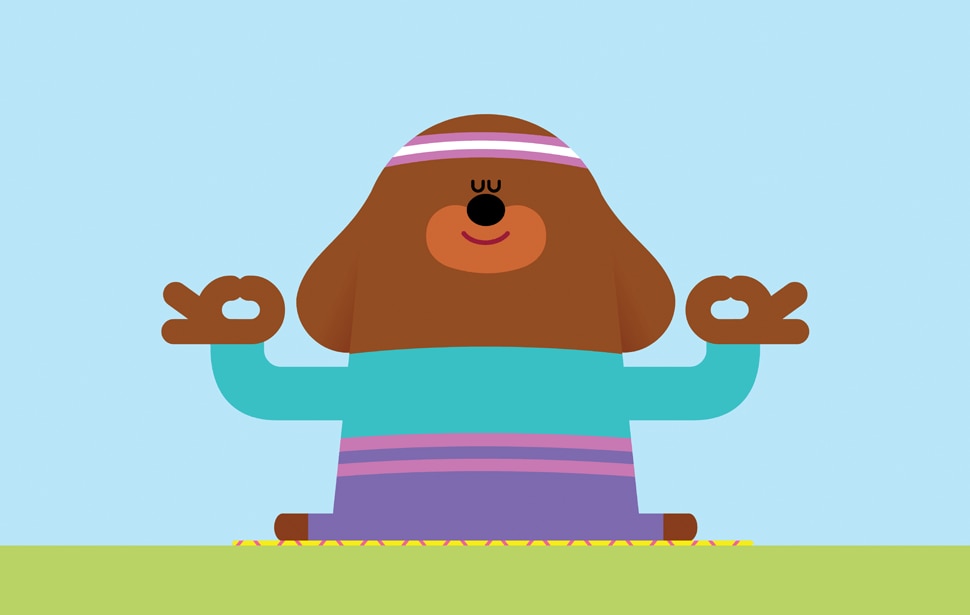 Children's yoga expert Lucy Aston came up with the amazing Hey Duggee Yoga moves. We caught up with her to find out more about how children (and grown-ups) can benefit from the practice of yoga
How old do you have to be to do yoga?
Yoga is really great for everyone, whatever your age. The earlier you get into yoga and relaxation the better, but it's best if your little one is walking so they have some control over their movements. It's a really great way for parents and children to bond and spend time together. I have personally taught children as young as 1, and grown-ups as young-at-heart as 94!
What are the benefits of doing yoga for kids?
There are so many benefits! There are all of the more obvious ones like improving balance and flexibility, building strength and coordination. But it can also help with children's concentration, attention and focus, and give them a great awareness of their own body and spatial awareness.
It's a great way to teach children to have quiet time where they can relax, be still and calm.
It's also great fun and can be a really fabulous creative experience, which is teaching children about doing things for themselves, looking after their bodies and giving themselves time to be calm, still and relax.
How did you come up with the Hey Duggee yoga moves?
It was a really fun, creative exercise to match yoga poses I teach, but be inspired by all of the wonderful Hey Duggee characters. I had a look at their shape and traits of the characters and found suitable yoga poses to go with them. For example, my favourite is Katarina the Flamingo, who stands on one leg of course, so that had to be a tree pose balance, but then there were some already existing poses like cow for Enid the bull!
What's your favourite yoga pose for children and why?
That's a really hard question, as children love different poses for different reasons! But Lion pose where the children take a deep breath in and let out a roar is always a favourite. Child's pose where they get to rest their body and take some nice gentle poses is also good (Norrie the mouse pose in Hey Duggee).
What do children tell you they enjoy most about doing yoga?
Children often live quite busy lives, at nursery or school, doing things with friends and family, and they love to have some quiet time and relax and escape into their own little world. They also love to do the same poses as their parents (although they might have different names!) If you can take time to do yoga together, they love the bonding experience of helping each other to balance and taking some deep breaths together to calm down. They also love the more energetic jumping and loud poses – because they are children after all! Yoga poses can bring their imagination to life!
Do you have any tips or shortcuts for time-poor parents trying to recreate this Clubhouse cake?
Time is so precious so my best advice is to start making the cake as soon as you can and doing a little bit every evening, instead of trying to do it all in one day. Gingerbread houses are a great alternative to cake and you can get very creative with sweets and candies to stick on the sides. If cake isn't your thing, Rice Krispie treats that can be used instead. It saves so much time and is great for gluten intolerant kids and grown-ups.
Do you need any equipment to do yoga?
No, not at all, maybe a yoga mat? But really as long as you have a clear, soft surface like a carpet or rug you'll be fine. You can always use a blanket if you don't have a yoga mat. Some children like a pillow or eye pillow to help them relax after their yoga time.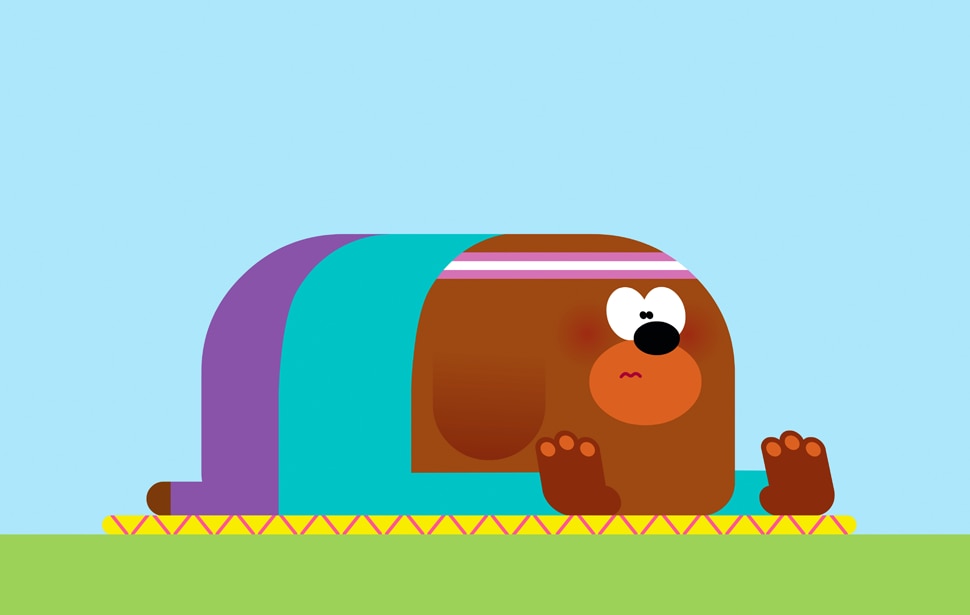 Can you do yoga anywhere?
Yes of course! As long as I mentioned, you have a safe, clear, soft surface to kneel and do your yoga poses then you can do this anywhere. In the garden, on the beach, on a country walk – outside yoga is great fun! But similarly in your living room or bedroom is fine too!
What time of day is the best to practice yoga?
You really can do yoga at any time, but at different points of the day, you might want to think about the benefits of practising yoga at that moment.
For example, when you wake up, after sleeping you might need to start off quite gently as you have been sleeping, but once you have warmed up it's great to do some more energetic poses to wake up the muscles and some big deep breaths to wake up the mind.
During the day when you are awake, anything goes! But once children are awake, then it's great to try balancing poses to focus their attention and concentration.
At the other end of that day, or around nap times, you would try and breathe more softly and move more slowly, maybe taking some of the relaxation poses like child's pose.
How can yoga benefit parents?
There are many benefits for parents, just like there are for children. It's a great exercise to take some time for yourself and even taking some quiet time to close your eyes for a few moments and take some deep breaths, without even moving is a really nice way to relax and calm the mind. This is particularly good if you find you are feeling stressed or anxious.
People always say to me "I am not bendy enough" to do yoga, and the truth is yoga isn't all about perfecting the yoga poses or being flexible, it's about helping yourself from where you are now. Yoga is great to help you relieve tension in muscles, and get more in touch with your body. It's brilliant for lowering stress levels and blood pressure and can help with digestion and other ailments such as back pain. It's a great way to relax and unwind at the end of the day to help you prepare to sleep, or at the other end of the scale, if you are suffering from sleep deprivation taking some nice deep exhales through the mouth and some faster flowing poses, can help you to feel more energised.
What's your favourite episode of Hey Duggee?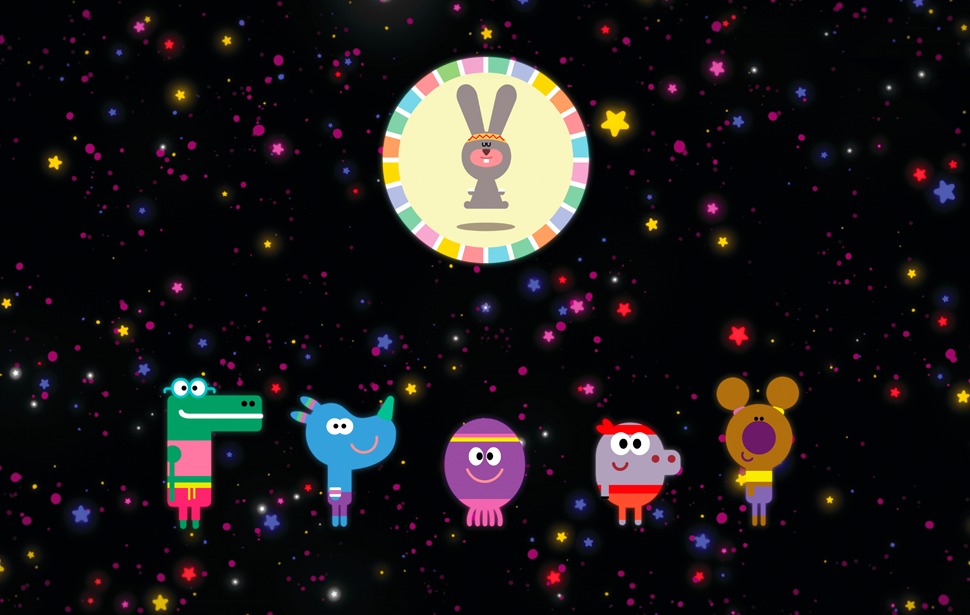 It has to be the Yoga badge!
Lucy Aston is founder of children's yoga brand YOGADOO.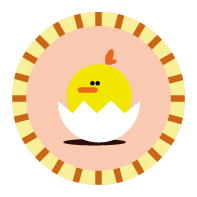 Newsletter
Join the Squirrel Club and be up to date with the latest news from the clubhouse, events, games, merchandise and more!