Steven Carter-Bailey's rice krispie clubhouse recipe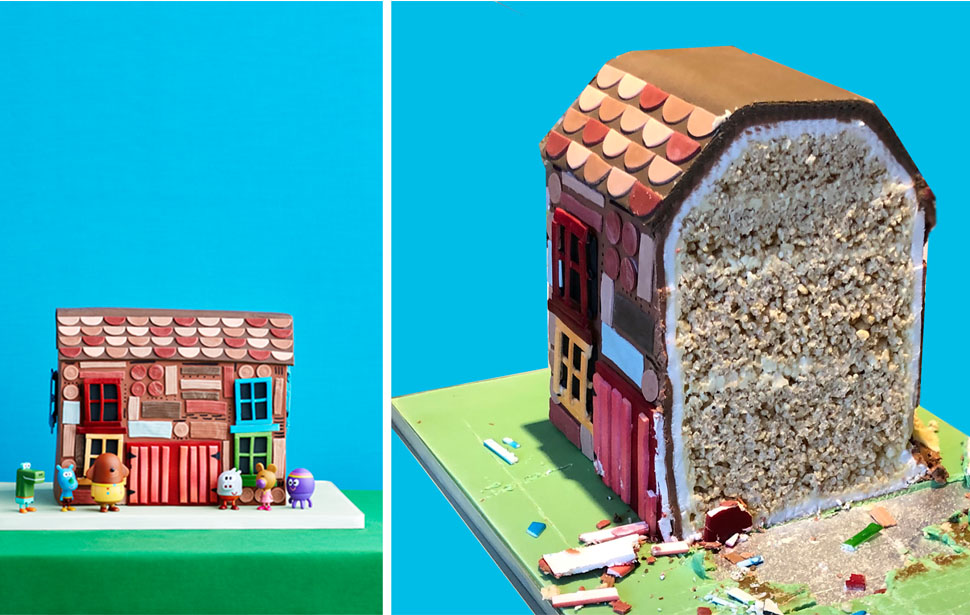 Great British Bake Off star Steven Carter-Bailey created this awesome Clubhouse. Follow this simple rice krispie recipe!
Ready for a challenge?
Make the clubhouse cake from sponge by following this recipe.
Rice krispie treats
These are a great (and gluten free) alternative to make cakes with. If you don't have the time or don't fancy baking a cake, then using rice krispie treats is the way forward.
The process is a little sticky, but the time you save is worth it. By pressing the mixture into cling film lined tins and cooling, you end up with cake shaped and sized treats which can be frosted and stacked just like cakes.
Once cooled, the structure can be covered in fondant as if it were a normal cake and can even be cut like a cake.
Cake decorators the world over will use this method to make irregular shapes or to even replace cake for weight and practicality reasons, so there's no need to feel guilty. Remember, it might not be a cake, but it's still delicious.
The amount and method would need to be doubled for large Duggee Clubhouse cake, but you can down size if you want.
Ingredients:
50g unsalted butter
300g marshmallows
180g rice krispies
Method:
Line your cake tin with cling film and have some flavourless oil (like vegetable or sunflower oil) at the ready.
Melt the butter and marshmallows in a very large saucepan* over a low heat. Stir continuously until they are fully incorporated and add your rice krispies to the pot. Stir together but be patient because this may take a little time and some elbow grease.
Allow the mix to cool slightly and then transfer it to the lined cake tin. Rub some oil on your hands and press the mix down into the tin (the oil is essential, believe me). Use the base of a glass or flat-bottomed object to level out the top of the treat.
Refrigerate the large treat until completely cool before removing from the tin and cling film.
Stack, frost and trim the treats as you would a normal cake and rejoice about the amount of time you've saved.
*You can also do this in a microwave, using a suitable bowl that is big enough. Microwave in 30 second bursts and stir well in between each one until everything has melted and combined together.