An interview with Tin Sounds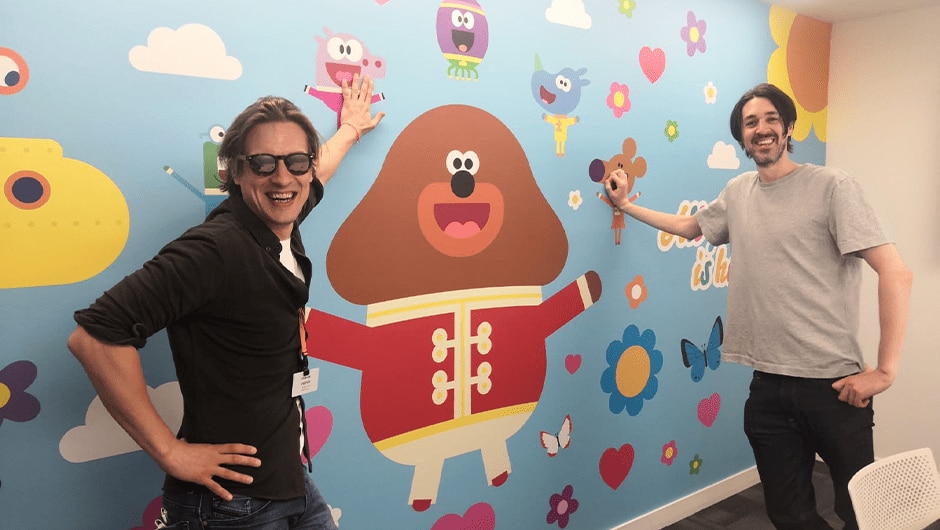 Tim and Toby are Tin Sounds – the music team specialising in original composition for TV, film, commercials, sound design and songwriting. Hear all about how they make the music for Hey Duggee and listen to some of their music on this Hey Duggee Songs playlist.
Can you tell us a little bit about your job?
We've been composing and producing the music used in the episodes and all series of Hey Duggee since its inception in 2014. Studio AKA send us the episodes at various stages of completion and then we work with them to score and produce the music you hear in the show.
What does a typical day look like?
Wake up, do some exercise, drink some vegetable juice and multiple espressos, go into the studio, power everything up, plug in the instruments, set controls to the heart of the sun and away we go!
What's your favourite episode of Hey Duggee and why?
The Space episode is just pure brilliance, a televisual masterpiece! Love the scope of that episode, the ability to tackle a subject that can be a bit ominous and scary for kids but still present it in a way that is comedic, touching and beautiful without taking away from the subject matter. Amazing animatics in that particular episode too.
If you could be any character in Hey Duggee, which one would you be and why?
Tim voices 'Nigel' from the series so really he has no choice in the matter.
Toby has always felt a real resonance with the Hippy Rabbits, but the Rabbit characters probably apply to both of us, very chilled and relaxed in real life.
We're also big fans of Roly, Tino, King Tiger and of course Chew Chew.
What is the most exciting thing about working with Studio AKA?
Just the loveliest and most inspiring team to work with. We work pretty collaboratively with Studio AKA on many of the musical ideas, it's great to be involved with team you can bounce ideas back and forth with.
Are there any Hey Duggee songs you came up with and then scrapped?
We write many alternative musical ideas to any given episode or song, so inevitably some ideas and styles do slip through the net in favour of others.
Why did you want to become a musician/composer?
It's very fortunate to be able to work in something that's your passion, and we're both lucky to be able do that. We both come from songwriting, instrumental and band-based backgrounds so the variety afforded to you by being a musician and composer can be exhilarating whether you're writing, producing or performing. It's a journey and one you never stop learning from, and that makes it especially rewarding.
Where do you find inspiration for writing the Hey Duggee songs and songs for the show?
It's great to be able to use our own experiences and tastes in the show. We can take a brief from Studio AKA but add our own twist to it – whether it's band music we listen to currently or from the past, music from TV shows, bands or albums from our own childhoods. It's really gratifying to be able to take little nuggets of nostalgia from our own experiences and apply them musically to the show.
What is it like seeing your songs/music come to life in the final cut of the episode?
We spend a lot of time finessing the music to the episodes, sometimes to the point where you may subjectively lose what was initially great about an idea in the first place. To be able to step away at the end of the process, and see the music come to life months later when the final episodes are released can remind you of what was so good at the start of the process.
We write the music for the 'Hey Duggee & The Greatest Hits' series of albums which gives us an opportunity to extend and give new life to music from the episodes, and we also write all the Hey Duggee BBC original songs that you can see on You Tube and BBC iPlayer etc. In contrast to the usual approach we use on the episode music, the videos for the BBC original songs are made after we write the music, so in this case it's nice to have that total surprise when we see the final cuts.
What are the biggest challenges?
Working to time and budget sometimes you have to make quick choices about how best to achieve a certain sound. Time and budgetary constraints mean that recording say, a full orchestra can't always be done, so sometimes we have to find workarounds. You have to be a bit of a musical chameleon and that does mean thinking on your feet much of the time, but that can be exhilarating and keeps one fresh.
What is your favourite song that you've created for Hey Duggee?
There are too many to pick only one but Step by Step, the Toothbrushing Song & The Space Song are particular favourites.
Is there anything you can tell us about songs/music in season 4?
There are some more classic easy listening Duggee song styles in there, some touching acoustic numbers but also some more ethereal Techno, House and Afrobeat influenced numbers.