Hey Duggee GIFs and Stickers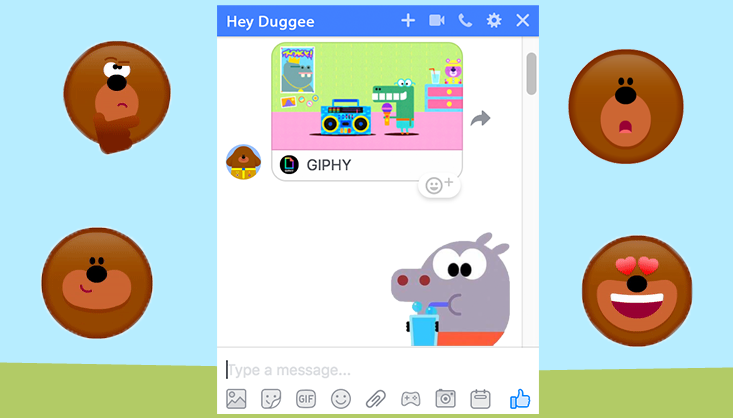 We've put together a 'pocket paw' guide to the exciting world of GIFs and Stickers.
We like them a lot… and we think you will too!
HOW TO ACCESS HEY DUGGEE GIFS & STICKERS
You can browse and share Hey Duggee stickers from our Hey Duggee GIPHY page!
There are loads of awesome things you can do with stickers, from sharing them on Facebook and Twitter or dropping them over images to Duggify your camera roll!
HOW TO USE HEY DUGGEE STICKERS IN MESSAGING
iMessage
Simply upgrade to iOS 10 or above.

Then switch on the GIPHY extension inside the Messages App Store, swipe left to access it, and start sending all of the GIFs & Stickers. 

With GIPHY for iMessage, you can find and send the perfect reaction GIF and animated stickers without leaving your conversation. You can also play around with our sticker collection. You can long-press a sticker to peel it, then drag and drop it on top of a message.
 Android
GIPHY for Android is the fastest, simplest way to search and share GIFs across all of your favorite social channels.
To find out more on GIFS and Stickers, check out the links below:
– Share GIFS on Facebook
– Share GIFS on Twitter
– Send Giphy GIFs Using Facebook Messenger
– Drag and drop stickers onto images