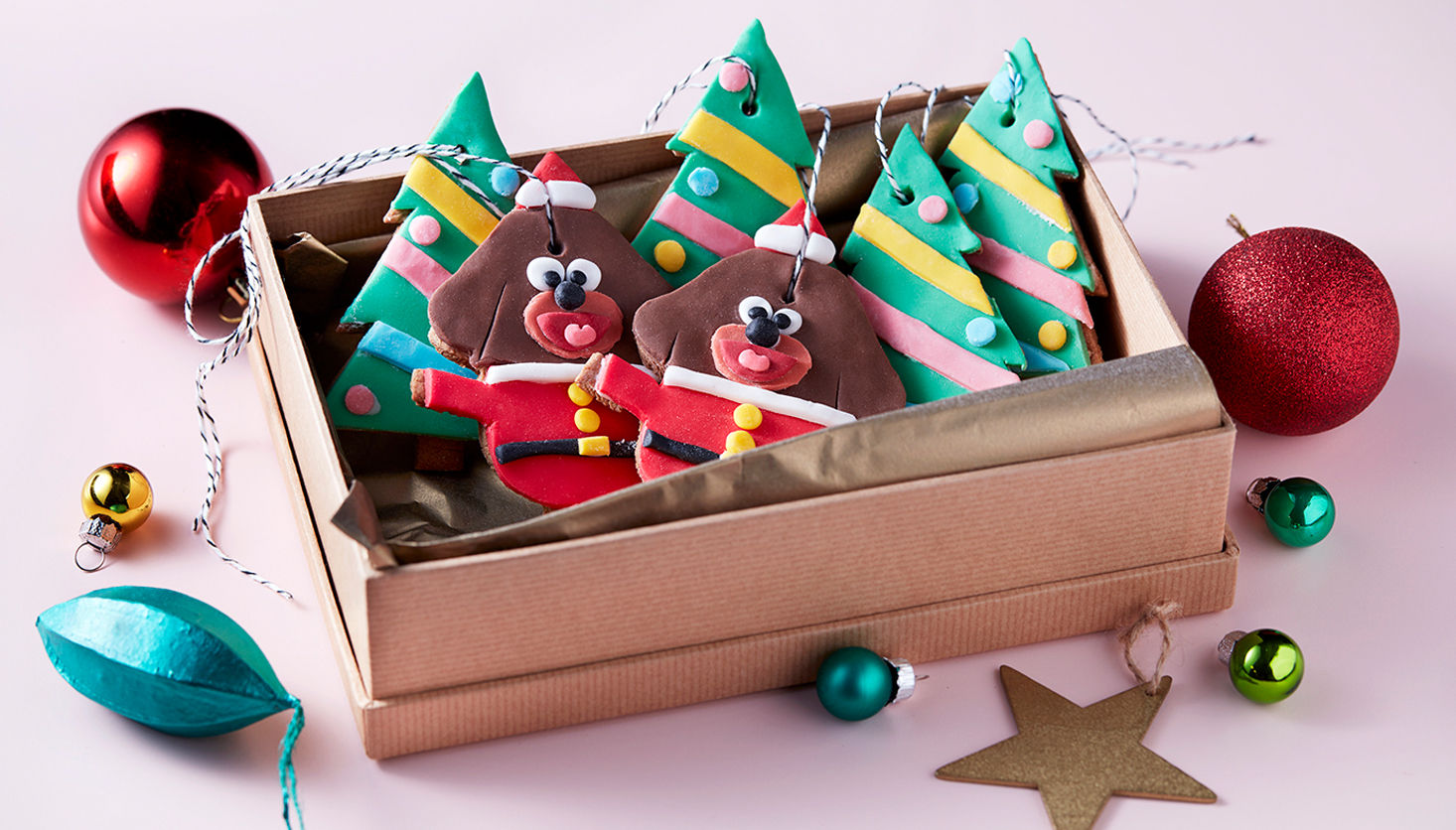 Gingerbread Christmas Cookies
Recipe by April Carter
INGREDIENTS
For the gingerbread:
100g unsalted butter
75g treacle
75g golden syrup
75g light brown soft sugar
475g plain flour
1 teaspoon baking powder
pinch salt
2 teaspoons ground ginger
1 teaspoon cinnamon
1 medium egg
For the decoration:
100g red fondant
100g green fondant
50g brown fondant
Small amount of black, white, light brown, yellow, blue and pink fondant
Small amount of icing sugar
Twine or ribbon for hanging
METHOD (Makes 12)
Place the butter, treacle, golden syrup and sugar in a large pan. Melt and set aside to cool slightly. Meanwhile, sift the flour, baking powder, salt, ginger and cinnamon into a bowl and set aside. Beat the egg into the butter mixture and stir in the flour mixture to create a soft dough. Divide into two discs, wrap in clingfilm and chill in the fridge for 30 minutes.
Make 10cm tall Duggee and Christmas tree templates to cut around. Preheat the oven to 180°C / 160°C fan / gas mark 4 and line two baking trays with baking parchment.
Roll out the dough one piece at a time to 5mm thick, cut out the Duggee and tree shapes and transfer to the lined baking trays. Make a hole in the top of each cookie using a skewer. Bake for 10 minutes or until firm. If the holes have closed up during baking, use a skewer to open them up again. Set aside to cool.
To decorate the Duggee cookies, kneed the red fondant briefly and roll out onto a work surface dusted with icing sugar. Use the template to cut out Duggee's red outfit and hat. Use the brown fondant to cut out shapes for Duggee's head and ears. Roll and cut out shapes for Duggee's features and outfit detail in the same way and dampen with water to stick.
Mix a small amount of icing sugar with water and use to stick all of the pieces onto the cookie. Make a hole in the fondant to match the hole in the top of the cookie and set aside to firm up.
To decorate the Christmas tree, roll out the green fondant as before and use the template to cut out the tree shapes. Roll out the blue, yellow and pink fondant and cut out strips and circles (use the end of an icing tip for these) to decorate the trees. Make a hole in the fondant for hanging as before.
Once the fondant has completely firmed up, thread with twine or ribbon for hanging.